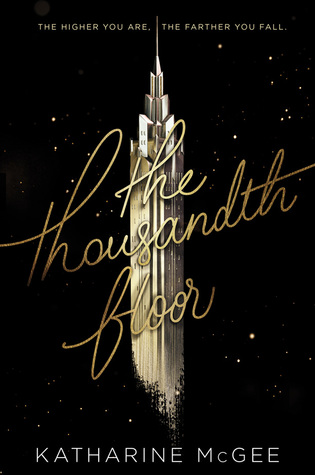 Author: Katherine McGee
Category/Genre: Young Adult Sci-Fi
Publication Date
: August 30th, 2016
NEW YORK CITY AS YOU'VE NEVER SEEN IT BEFORE.
A thousand-story tower stretching into the sky. A glittering vision of the future where anything is possible—if you want it enough.
WELCOME TO MANHATTAN, 2118.
A hundred years in the future, New York is a city of innovation and dreams. Everyone there wants something…and everyone has something to lose.
LEDA COLE's flawless exterior belies a secret addiction—to a drug she never should have tried and a boy she never should have touched.
ERIS DODD-RADSON's beautiful, carefree life falls to pieces when a heartbreaking betrayal tears her family apart.
RYLIN MYERS's job on one of the highest floors sweeps her into a world—and a romance—she never imagined…but will this new life cost Rylin her old one?
WATT BAKRADI is a tech genius with a secret: he knows everything about everyone. But when he's hired to spy for an upper-floor girl, he finds himself caught up in a complicated web of lies.
And living above everyone else on the thousandth floor is AVERY FULLER, the girl genetically designed to be perfect. The girl who seems to have it all—yet is tormented by the one thing she can never have.
Amid breathtaking advancement and high-tech luxury, five teenagers struggle to find their place at the top of the world. But when you're this high up, there's nowhere to go but down....
Buy Links:
Amazon
3 "Gossip Girl meets The Jetsons" Stars
Yeah, I did love Gossip Girl (I think that's clear by now judging from my reviews of books that used this guilty-pleasure show as a comparative title). The Jetsons was one of my favorite cartoons from when I was a kid. So I was pretty excited to read The Thousandth Floor, a book about rich, glamourous teens and their secrets (GG) in a futuristic setting (TJ). For a while there, I thought I'd grow to love this book as much as it's comp titles, but the ending pretty much ruined the whole experience for me.
Thing number one you should know about The Thousandth Floor: It's not a stand alone. For some reason I thought it was, and while I did enjoy the world building A LOT (the best thing about this book by far is the futuristic world the author created), I didn't want it to be stretched into another book. There'd be no need for that if the ending had been different—and, in my opinion, it should've been different.
Now, this book is written in multiple POVs and that much is clear from the blurb. Did I hate it? No. Do I think it needed as many POVs? No, either. Not when their voices weren't distinguishing enough. Sure it's easier to get away with similar voices when you're writing third POV, but Eris and Leda, for example, were so interchangeable it took me a while to figure out who I was reading about. A few chapters in, the differences became clearer, but only because I started loathing Leda with everything I had.
Leda was, by far, the worst character in this book, and the one who suffered the least, which, of course, pissed me off even more. I don't know if it was a good idea to have the POV of such an unlikable character take so much of the story, but I have to admit she was the one getting things moving for the story overall. So, yeah, I can't say it was a horrible idea, either. I guess I wouldn't have minded it so much if the rest of the characters had been much more likable. None of them were as bad as Leda, but I didn't warm up to them as I wish I had.
Eris was fine, but I expected her story to speak to me in a deeper level. So much went wrong for the poor girl, and while I was sorry for her, I wasn't sorry enough.
It was hard to feel much for Avery and Atlas since they were both so damn rich, perfect and untouchable. I needed some of Eris' problems to be Avery's. While one girl got all the crap, the other just had a "forbidden romance" arc and nothing else.
I did like Watt, but I liked Nadia more. I need a supercomputer like hers for me. Watt was super smart and not at all like Eris, Leda and Avery, so that was interesting. He was a little more like Rylin, but, honestly? I had totally forgotten about Rylin until I saw her name on the blurb just now. That says a lot about my connection to her and her importance to the story. While Eris, Leda, Avery and Watt's story connected in an interesting way in the end, Rylin was the outsider and I'm not sure what she contributed to the story at all.
The ending, like I said, was incredibly disappointing to me, but I don't want to get into details because it'll spoil the book so bad there'll be no point in reading it. I can honestly say the biggest reason I kept reading was because I wanted to learn who the victim was.
So, while this author managed to create a super interesting world (I want all the gadgets and tech supplies!!!) and hook the readers with the suspense presented in the prologue, the book failed in making me connect with the characters. And that ending? Well, it simply pissed me off.
*If you liked this review (or not), if you read the book (or not), come say hello and leave your comments bellow.