Image and blurb from Goodreads
Title
: The Last 8
(The Last 8 #1)
Author
: Laura Pohl
Publication Date
: March 1st, 2018
Category/Genre
: Young Adult Sci-Fi
Publisher: Sourcebooks Fire
A high-stakes survival story about eight teenagers who outlive an alien attack—perfect for fans of The 5th Wave

Clover Martinez has always been a survivor, which is the only reason she isn't among the dead when aliens invade and destroy Earth as she knows it.

When Clover hears an inexplicable radio message, she's shocked to learn there are other survivors—and that they're all at the former Area 51. When she arrives, she's greeted by a band of misfits who call themselves The Last Teenagers on Earth.

Only they aren't the ragtag group of heroes Clover was expecting. The group seems more interested in hiding than fighting back, and Clover starts to wonder if she was better off alone. But then she finds a hidden spaceship, and she doesn't know what to believe…or who to trust.
3.5 "Diverse Teen Independence Day" Stars
ARC via NetGalley
Thank you, Sourcebooks Fire
Trigger warning: suicide.
I wanted to rate this book higher, and I would've had it not been for the last few pages and how suicide was portrayed near the end.
First of all, this author is Brazilian, so HECK YEEESSS!
I'm going to be the first to admit I'm not a huge sci-fi fan. I know nothing about Star Wars, Star Trek or other TV shows/movies referenced in the book aside from Will Smith's Independence Day. That one I've watched a hundred times—it's a great movie.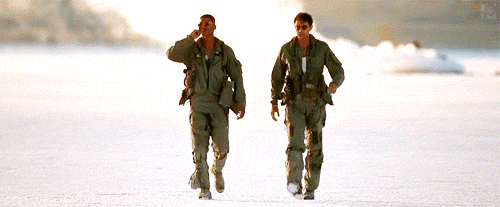 Having said that, I love stories about the end of the world and alien invasions, especially when the characters are so diverse, so I was really excited about this one. Besides, it's written by a Brazilian author, so, again, YEEESS!!!
It took me some time to get into The Last 8 because I kept expecting more details that would make me feel truly immersed in the world and what was happening. Like the blurb says, aliens invade, everyone is dying and shit is happening, but I didn't really feel much while I was reading. This is partially because Clover, the main character, is a more practical and less emotional person, but it's also because the writing didn't dive deep enough into the setting and the world.
Things really got interesting for me when Clover met the group of teens called The Last Teenagers on Earth and they decided to do something about the aliens. The action scenes were great, especially the ones with Clover doing amazing things while piloting a plane. There were also some really good moments as Clover spent time alone with some of the other teens and opened up to them, or let them open up and listened.
I also enjoyed the big twist that came into play a little after the halfway mark. I could see some of it coming, but not all of it, so I ended up being surprised! Yay!
Now, I have to say that while I LOVE and LIVE for a diverse group of characters (and the diversity here was AMAZING!!!!!!!), they weren't distinctive enough as individuals. The story was told from Clover's perspective, so we didn't get a chance to really get to know the other teens (the last survivors), and while the author tried to give them different jobs/activities, in the end they pretty much sounded the same to me. I kept trying and failing to remember who they were and what they did. The one I liked the most ended up not having the best ending, so…*sad face*
Now, none of the things above would've kept me from rating this 4 stars or more, but the thing that bothered me the most was how suicide was portrayed in the end.

*

**SPOILER ALERT*** I hated how Violet's suicide was used as a plot device to get Andy to do what needed to be done. It felt manipulative and as if it was the act of a hero, which is a message that bothers me a lot. I thought Clover's struggle with wanting to end her life throughout the book was handled with care and made sense given all that had happened. And for her to have come so far, decided to fight for her life and for the friends she made, and then simply encourage Violet to use suicide to force Andy to do what needed to be done…that felt wrong and out of character. I wish the author had picked a better way to handle that situation—Violet could've easily been hurt/killed by one of the aliens and Andy would've reacted the same. What Andy needed in order to access her power was to lose Violet, and given the fact that they were surrounded by aliens that wanted all of them dead, she didn't really need to kill herself. ***END SPOILER**
With that said, there were some great moments in this book, especially with the action scenes, that reminded me of Independence Day. After all, who doesn't like to see a group of diverse teenagers and an adorable dog (OMG, MY HEART!) fighting to save the planet from creepy aliens?
*If you liked this review (or not), if you read the book (or not), come say hello and leave your comments bellow
.