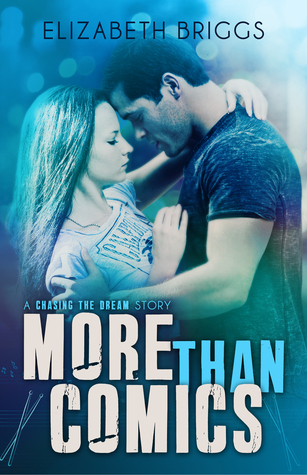 Image and blurb from Goodreads:
Writer Tara McFadden has been friends with artist and drummer Hector Fernandez for years, long before his band became famous on reality TV – yet they've never met in person. They finally have a chance to connect offline when they're both sent to Comic-Con to promote the graphic novel they collaborated on.
Hector's secretly been in love with Tara for as long as he can remember, and once they meet, she sees him in a new light. All the years of longing lead to an incredible night of passion after one of his concerts, but neither is sure if their online relationship can translate into a real life romance – or if this will ruin their friendship forever.
Over four crazy days at Comic-Con, Hector and Tara must decide if they want a future together. But when their story seems to be over, it's up to Hector's entire band to make sure he and Tara get their happy ending.
*******************************************************************************
My thoughts:
4 "I want to go to Comic Con" STARS.
ARC via Netgalley - THANK YOU!!
So this was a quick and fun read. Sexy, too.
I'll start by saying that this is the second book in the series, but I wasn't lost within the story. Although I was curious about the previous book -- I love reality TV!!!! -- the way the story between Tara and Hector was told didn't leave me with the feeling that I had to read the first book in other to follow the events of this one. That's a great thing!
Both Tara and Hector get to tell their stories. Although I'm a fan of dual POV, I can't really say I liked this one. There was nothing wrong with the characters, but their voices weren't distinctive at all. There were more than just a few moments when I had to simply stop and go back to identify whose chapter that was. To me, Hector and Tara sounded like the same person.
But voice problem aside, their friends-to-more love story was very sweet. They were good people. You know the kind you look and say: these people deserve to be happy because they're good? Well, Tara and Hector were just like that.
I thought Tara handed the situation with her ex boyfriend properly. There was no cheating or playing games. She didn't use him to make Hector jealous or the other way around. She didn't lead the ex on. I admired her for that.
And Hector also had a great heart. He acted a bit stupid here and then, which was okay because guys can be dense sometimes. *winks* But he respected Tara and was a good friend to her.
I also liked that the author wrote Hector as a Latino guy without the stereotype, which was really refreshing. P.S.: Tara, I'm with you on men speaking Spanish being sexy. ;-)
As to the setting, I wish we'd gotten to see more of that. Comic-Con is a huge event, and I don't think the book explored it as well. I definitely missed a better sense of place.
Overall, this was a great read and the author got me excited about the next one, because REALITY TV!!!!