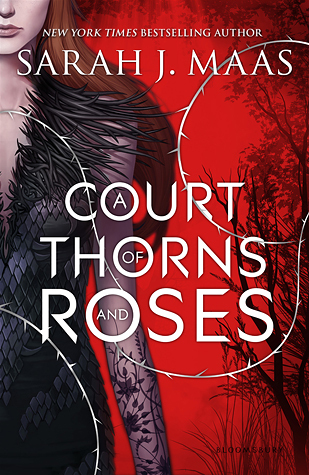 Image and blurb from Goodreads:
A thrilling, seductive new series from New York Timesbestselling author Sarah J. Maas, blending Beauty and the Beast with faerie lore.
When nineteen-year-old huntress Feyre kills a wolf in the woods, a beast-like creature arrives to demand retribution for it. Dragged to a treacherous magical land she only knows about from legends, Feyre discovers that her captor is not an animal, but Tamlin—one of the lethal, immortal faeries who once ruled their world.
As she dwells on his estate, her feelings for Tamlin transform from icy hostility into a fiery passion that burns through every lie and warning she's been told about the beautiful, dangerous world of the Fae. But an ancient, wicked shadow grows over the faerie lands, and Feyre must find a way to stop it... or doom Tamlin—and his world—forever.
Perfect for fans of Kristin Cashore and George R. R. Martin, this first book in a sexy and action-packed new series is impossible to put down!
*******************************************************************************
My thoughts:
5 "Beauty and the Beast is the bomb" STARS.
Ahhhhhh I love this! Loveeee looveeee this!
Beauty and the Beast is my favorite fairy tale, so there was a good chance I'd love this. Plus, Maas wrote this. Even though I struggled with Crown of the Midnight (still haven't finished it), I loved Throne of Glass. Maas writes kick-ass heroines and awesome love interests.
And ACOTAR didn't disappoint.
For the first half of the book this was me every time Feyre and Tamlin shared a scene: NOW, KISS!! KISS! COME ON, JUST KISS!!!
And then I was happy when they finally did. :-)
But everything went to space pretty fast, huh? Things got sh*tty for Feyre and Tamlin. Maas gifted us with amazing action scenes to make up for the lack of kissing and lack of Lucien (I missed his sass for most of the second half).
And then we had Rhysand, the f* icing on the cake! Ohhhhh, I wanted more of him. Much more. But I'll be patient and wait for the next. When can I get it? Tomorrow? No? *cries*
*******************************************************************************
While reading:
Why can't I have a day off and stay home to finish this? Why???
And why did I stay up until 1 am if I knew I wouldn't get a day off? Urgh!