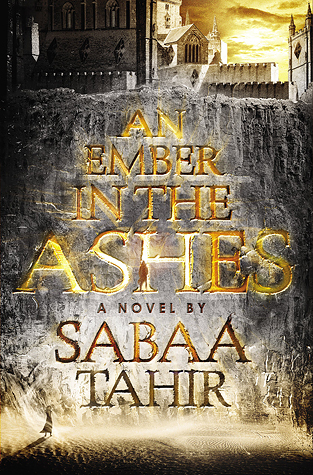 Image and blurb from Goodreads:
Laia is a slave.

Elias is a soldier.

Neither is free.
Under the Martial Empire, defiance is met with death. Those who do not vow their blood and bodies to the Emperor risk the execution of their loved ones and the destruction of all they hold dear.
It is in this brutal world, inspired by ancient Rome, that Laia lives with her grandparents and older brother. The family ekes out an existence in the Empire's impoverished backstreets. They do not challenge the Empire. They've seen what happens to those who do.
But when Laia's brother is arrested for treason, Laia is forced to make a decision. In exchange for help from rebels who promise to rescue her brother, she will risk her life to spy for them from within the Empire's greatest military academy.
There, Laia meets Elias, the school's finest soldier—and secretly, its most unwilling. Elias wants only to be free of the tyranny he's being trained to enforce. He and Laia will soon realize that their destinies are intertwined—and that their choices will change the fate of the Empire itself.
*******************************************************************************
My thoughts:
4.5 "Elias is my book boyfriend" stars

This was my first experience with audio book, and although I liked it, I was so into the story that I found myself getting the ebook copy just because I read faster than the narrator. Ha!

Anyway, I'm so glad this book is dual-POV, because Elias was my favorite character. OMG how I loved him. He had such a rich backstory and his struggle was real. I rooted for him all the way. Super duper mega team Elias!

I wasn't the biggest fan of Laia, though. Sometimes she simply irritated me, but she grew a lot as a character by the end of the book, so I guess the choice to start with a weak Laia was a good one.

Something else I really enjoyed was how the author took time to develop side characters like Helene, the Cook and even Marcus. They had flaws (tons of them), but they also had redeeming qualities, like Marcus' relationship with his brother.

So, yes, I'm definitely anxious for the sequel. When is it out?