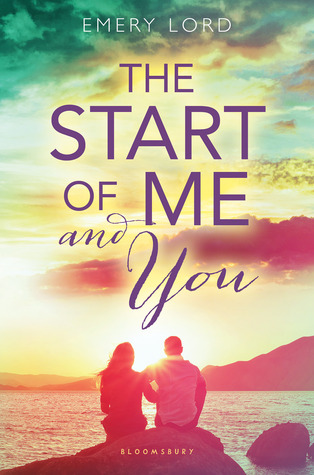 Image and blurb from Goodreads:
Following her pitch-perfect debut Open Road Summer, Emery Lord pens another gorgeous story of best friends, new love, & second chances.
Brimming with heartfelt relationships and authentic high-school dynamics
The Start of Me and You
proves that it's never too late for second chances.
It's been a year since it happened—when Paige Hancock's first boyfriend died in an accident. After shutting out the world for two years, Paige is finally ready for a second chance at high school . . . and she has a plan. First: Get her old crush, Ryan Chase, to date her—the perfect way to convince everyone she's back to normal. Next: Join a club—simple, it's high school after all. But when Ryan's sweet, nerdy cousin, Max, moves to town and recruits Paige for the Quiz Bowl team (of all things!) her perfect plan is thrown for a serious loop. Will Paige be able to face her fears and finally open herself up to the life she was meant to live?
********************************
My thoughts:
3.5 or 4,0 (can't decide) "Unlikable MC bucket list" STARS
I've been hearing about this author for quite some time, so I was eager to read one of her books. The Start of Me and You sounded like the perfect choice.
While I enjoyed it a lot, I didn't love it.
Paige lost her boyfriend about a year ago and now she's trying to get back to her "normal" life. In order to get there, she makes a list of things to do in the new year that will allow her to feel normal again. Making new friends. Joining a club. Dating.
The normal reaction would be to root for her to get all of that done. Right? Yep. And I sort of did, except when she was annoying me. Sorry.
I know most people won't agree, but Paige is making my "unlikable MC" list. Don't kill me!
Look, she wasn't all bad. I loved how she cared for her friends. I LOVED her relationship with her grandmother (it was one of my favorite parts of the book). And after she let go of her Ryan obsession, she was a much better person. But for the first 1/3 of the book, she came across as another shallow teen girl.
Her crush on Ryan was nearly an obsession, and the fact that it took her so damn long to realize she actually had feelings for Max annoyed me so damn much. Some of her thoughts related to Ryan (the proposal one) were irritating and overdramatic. Same goes for her reaction to her parent's situation. It's not like I don't understand her reasons for that. I do. They were valid. But the way she talked or thought about it didn't allow me to connect to her and those reasons as well as I would've expected.
But, like I said, she got much better later on. Especially after she realized Max was the one.
Well, I fell in love with Max much earlier, so maybe that's why I wanted to punch Paige for taking so long to sort through her feelings. How can you not love him? He's fun, intelligent, kind, thoughtful...a real gentleman. I loved Max. A lot. Book boyfriend material. I loved how he listened to Paige. How he connected with her friends. How he patiently waited for her to come to her senses. Max is the guy.
Other positives aspects to this book were the friendship between the guys and the girls, and Paige's relationship with her grandmother.
Paige's group of friends was pretty awesome. I wanted to be part of it. I seriously wanted to hang out with all the girls and the boys. They had fun together, they did normal teenage stuff and they didn't have to act stupid and risk their safety to have a good time. That was pretty awesome.
Overall, I enjoyed the story and the writing. I just didn't love it as much as many people I know, but that's fine.