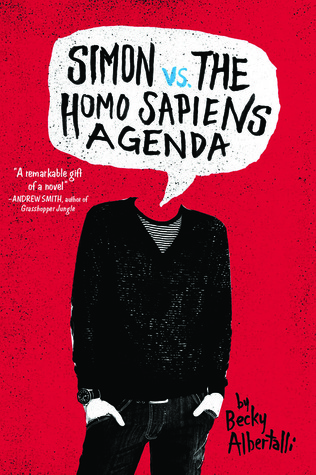 Image and blurb from Goodreads:
Sixteen-year-old and not-so-openly gay Simon Spier prefers to save his drama for the school musical. But when an email falls into the wrong hands, his secret is at risk of being thrust into the spotlight. Now Simon is actually being blackmailed: if he doesn't play wingman for class clown Martin, his sexual identity will become everyone's business. Worse, the privacy of Blue, the pen name of the boy he's been emailing, will be compromised.
With some messy dynamics emerging in his once tight-knit group of friends, and his email correspondence with Blue growing more flirtatious every day, Simon's junior year has suddenly gotten all kinds of complicated. Now, change-averse Simon has to find a way to step out of his comfort zone before he's pushed out—without alienating his friends, compromising himself, or fumbling a shot at happiness with the most confusing, adorable guy he's never met.
*******************************
My thoughts:
4.0 or 4.5
(can't decide)
"Oreos go well with everything" STARS
I started this thinking I'd give it 5 stars. I was ready to looooooveee this book, and I'd spent months just waiting for it. But I didn't rate it 5 stars, did I? It was close, but for some reason it wasn't there (wherever there is).
First of all, this book is CUTE! I mean, Eleanor & Park level of cuteness. Simon is adorable (most of the time) and his interactions with Blue are simply amazing.
The voice is quite spectacular, although I'm not a 100% sure it reads male throughout the entire book. But it's funny and compelling enough to keep you entertained and wanting more.
As I said, Simon is a great MC. Or let's say the Simon from most chapters is a great MC. His relationships with his parents was refreshing and crazy, which made it even more refreshing. He had a lot of friends and cared for them, so no MC whose life revolves around the LI. Except when it started revolving around Blue. That's when the story shifted and annoyed me just a tiny bit.
But yeah... I get it. The obsession. The need to be 24/7 with the person you're falling with. I get all that. But I can't lie and say it didn't bother me to see Simon pull away from his friends, neglect them or almost ruin his friendships. It did. But it was a chance to create drama, so I won't waste time hating on it.
I also have to say it took me so long to separate Leah from Abby (two of Simon's friend), as well as the boys. I kept thinking one was actually the other. I thought the side characters were underdeveloped. I didn't know much about any of them.
Other than that, this book deserves the praises it's been getting. It's a sweet, fun and entertaining read about first love and diversity. The only reason I'm not giving it five stars it's because I was dying to read he next page or chapters. I wasn't too, but it took me a whole week to finish it. I was smiling when I did, though.