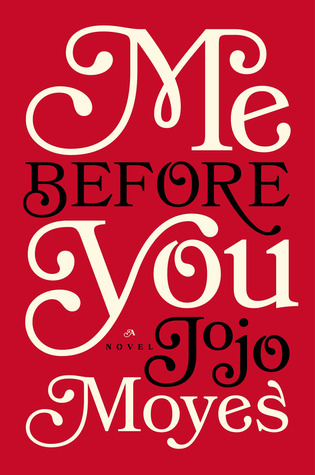 Image and blurb from Goodreads:
Lou Clark knows lots of things. She knows how many footsteps there are between the bus stop and home. She knows she likes working in The Buttered Bun tea shop and she knows she might not love her boyfriend Patrick.
What Lou doesn't know is she's about to lose her job or that knowing what's coming is what keeps her sane.
Will Traynor knows his motorcycle accident took away his desire to live. He knows everything feels very small and rather joyless now and he knows exactly how he's going to put a stop to that.
What Will doesn't know is that Lou is about to burst into his world in a riot of colour. And neither of them knows they're going to change the other for all time.
************************************************
My thoughts:
5 "I cried so hard I couldn't write a decent review" STARS
This is one of my favorite books of all times. But I'm still gonna say this: Stupid, stupid book!! I'm still crying. And I pretty sure I hate you just as much as I love you. Urgh.
I absolutely adored Lou. She was amazing, and I wanted to be her friend, hold her and cry with her. I feel like we did cry together.
But I think I hate Will for what he did. How could you? In Lou's words: F* you!
The ending was the worse, but I'm still giving this book 5 stars because I couldn't put it down. And it made me cry. I can't really say that about many books, so there you go. Want to kill you, Jojo, but here are my 5 stars.
P.s: Don't know why anyone thought it'd be a good idea to write Mother, Father, sister, nurse's POV, but I don't really care because I love this book beyond words.
Just go read it and cry with me so I feel less lonely.
PS.2: I can't right a decent review because: (a) this book makes me too emotional and (b) a longer review would spoil the whole thing, and you don't want that. Trust me, you don't want that.