Image and blurb from Goodreads
Title
: Why I Loathe Sterling Lane
Author
: Ingrid Paulson
Publication Date
: June 6th, 2017
Publisher
: Entangled : Teen
Category/Genre: Young Adult Contemporary Romance
Per her 537 rules, Harper Campbell keeps her life tidy—academically and socially. But the moment Sterling Lane transfers into her tiny boarding school, her twin brother gets swept up in Sterling's pranks and schemes and nearly gets expelled. Harper knows it's Sterling's fault, and to protect her brother, she vows to take him down. As she exposes his endless school violations, he keeps striking back, framing her for his own infractions. Worst of all, he's charmed the administration into thinking he's harmless, and only Harper sees him for the troublemaker he absolutely is.
As she breaks rule after precious rule in her battle of wits against Sterling and tension between them hits a boiling point, she's horrified to discover that perhaps the two of them aren't so different. And maybe she doesn't entirely hate him after all. Teaming up with Sterling to save her brother might be the only way to keep from breaking the most important rule—protecting Cole.
4 "10 Things I Hate About You Feels!" Stars
Thank you, Entangled Teen.
This book is addictive, hot and gave me major flashback to late 90's/beginning of 2000's. If you were a teenager then, you'll understand why.
Before Heath Ledger became the Joker on that Batman movie, he was a bad boy teenager full of attitude in a movie called Ten Things I Hate About You. I love this movie. Like, LOVE LOVE, so if you haven't watched it yet, fix it!
For me, Sterling Lane took me back to Ledger's character. And Harper Campbell, the main character in this book, instantly reminded me of Julia Style's character in that movie.
Smart, sassy and protective of her sibling, Harper sees new student and known troublemarker Sterling Lane as an unwanted distraction. She has her entire school year (and possibly her life) planned out and she follows an impressive set of rules that will lead her toward success. As far as Harper is concerned, Sterling is the personification of a rule breaker and she wants nothing to do with him.
It doesn't help that Sterling's charms (and his family's influence) prevent him from getting in trouble even when he teases their teachers, lie to everyone's faces, tries to pay her to do his school work and breaks all sorts of rules. Harper instantly sees him as an enemy. A situation that only gets worse when she discovers he's sharing a dorm room with her twin brother.
As Harper's brother starts getting in trouble, she blames Sterling's influence. But Harper doesn't stop at that, she tries to get Sterling out of the way by exposing him. That makes Sterling notice her and their little hating/revenge game start.
Watching those two go at each other is half the fun. The other half is watching them try not to be all over each other since their hate looks a little too close to attraction and passion.
The puns and teasing and straight-out insane things they come up with to get even are pretty funny, even if some of them are borderline absurd. I didn't care. I was too busy turning pages, desperate for me.
The dynamic once again reminded me of that teen movie I was obsessed with. Sterling was sexy and loved to get under Harper's skin, but she didn't stay behind. Girlfriend was a force to be reckoned with. She wasn't afraid to say the truth and she wasn't about to turn into someone else just because she didn't fit some pretty mold.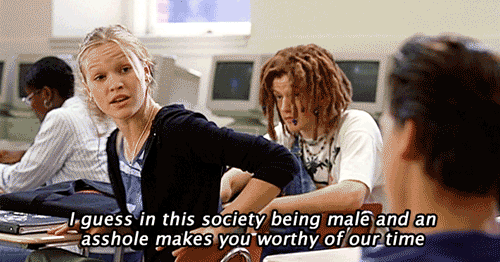 Something I appreciated was that Harper's arc didn't end up changing her into someone else. Sure she learned a thing or two about making friends and being more approachable, but she didn't become a different person because of that.
The romance was HOT, HOT, HOT and swoony.
The enemies to lover trope was played to almost perfection here. I adored their bantering and how they fought against their chemistry, which was off the charts, and how powerful it was when they gave in.
I got my happy ending, but I thought it ended a bit abruptly. Maybe that's just me wanting more of them because I seriously couldn't get enough. I read this in one sitting and was eager for more. Now that it's done, I'll go watch Ten Things I Hate About You for the millionth time.
*If you liked this review (or not), if you read the book (or not), come say hello and leave your comments bellow.