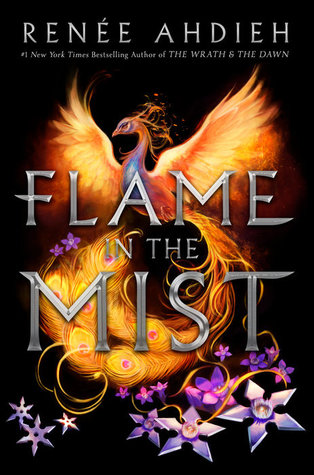 Image and blurb from Goodreads
Title: Flame in the Mist
Publication date: May 16th, 2017
Category/Genre: Young Adult Fantasy
Publisher: G.P. Putman's Son Books for Young Readers
From the #1 New York Times bestselling author of The Wrath and the Dawn, comes a sweeping, action-packed YA adventure set against the backdrop of Feudal Japan where Mulan meets Throne of Glass.
The daughter of a prominent samurai, Mariko has long known her place—she may be an accomplished alchemist, whose cunning rivals that of her brother Kenshin, but because she is not a boy, her future has always been out of her hands. At just seventeen years old, Mariko is promised to Minamoto Raiden, the son of the emperor's favorite consort—a political marriage that will elevate her family's standing. But en route to the imperial city of Inako, Mariko narrowly escapes a bloody ambush by a dangerous gang of bandits known as the Black Clan, who she learns has been hired to kill her before she reaches the palace.
Dressed as a peasant boy, Mariko sets out to infiltrate the Black Clan and track down those responsible for the target on her back. Once she's within their ranks, though, Mariko finds for the first time she's appreciated for her intellect and abilities. She even finds herself falling in love—a love that will force her to question everything she's ever known about her family, her purpose, and her deepest desires.
4.5 "Feminist Mulan in Japan" Stars
This book is ridiculously good. I almost hate how good it is because I knew it'd end at some point and I just didn't want it to. I don't want to let go of the characters. I want them with me. Right now. Stay, please.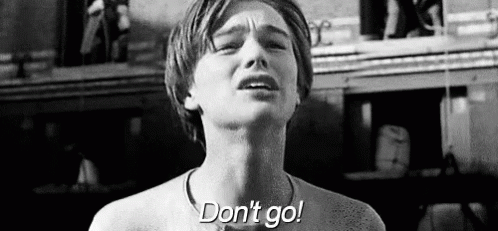 The first thing I'll say about this is: Renee Ahdieh can't disappoint. She simply doesn't have it in her to write a crappy book that isn't made out of beautiful words and likable characters and OTP material. After having read three books by her set in two completely different worlds, I can officially say she's made it to my favorite authors' list.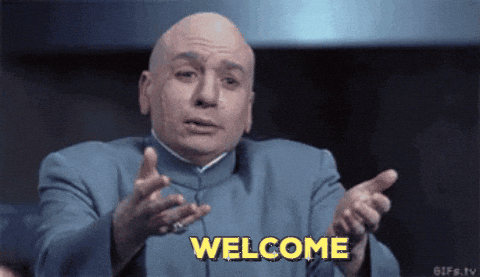 Like The Wrath & The Dawn and its sequel, Renee Ahdieh created a story that balances history and fantasy, which that hint of magic and retelling that makes everything much more interesting.
Flame in the Mist
is Mulan is Feudal Japan (and in case you didn't know, Mulan was Chinese and no, they're NOT interchangeable) with a strong feminist arc and a romance that will melt you heart, you soul and your pants. It'll melt everything because it's OTP material. More on that later.
Our Mulan-inspired character is Mariko. I love Mariko. I loved Mariko from moment on, so I don't know how to say anything other than Mariko kicks ass and Mariko and I are friends, so don't speak ill of her in front of me. Mariko holds power in her hands and her mind. She's smart AF and she knows it. But Mariko doesn't know what to do with her power—not until the end of the book, and that's Mariko's journey. A beautiful, touching, make-you-heart-happy journey.
Mariko's feminist arc is beautiful because it goes from her resenting being a woman to embracing that. As the daughter of a powerful, but somewhat cruel man who only wants more influence, she was promised to the son of the Emperor. What did Mariko do when her father "sold" her as a possession to marry a man she didn't know without even asking her for it? Oh, she found a cute boy and slept with him because her body belonged to her.
When she's traveling to the imperial city, Mariko is attacked. Everyone dies but her. She hears her attackers saying they were sent to eliminate her and she identifies them as the Black Clan, a group of bandits. Mariko escapes and comes up with a plan: she'll pretend to be a boy, infiltrate the Black Clan and find out who ordered her murder. Then, she'll eliminate the Black Clan and reappear with the truth. I told you, Mariko is kickass.
The things Mariko learn about herself and about embracing the power of being who she is warmed my heart. It was a beautiful journey. She learned so much from the beginning to the end of this book that I was proud of her. Proud of how far she came. Proud of how much she learned.
Mariko also learned things about other people. She learned things about her family and the life she used to live, but mostly, she learned things about the people she vowed to destroy, about the members of the Black Clan. When she joined them in her quest for truth and vengeance, Mariko didn't expect to find in the Black Clan her true home. True friends. People she'd learn to care about. She definitely didn't expect to find love.
I won't talk about the love part just yet, because once I start I doubt I'll be able to stop.
So, let me talk about friends and the Black Clan.
I've come to learn something about myself as a reader: a book will become special to me if it has a group of well-developed friends as part of the story. And the Black Clan was that beyond everything else. Those people didn't have to stay together. They weren't forced there. They weren't born in that circumstance. They chose to get together and fight for something they believed in. They chose to form the Black Clan and protect each other. So I chose to love them for it.
I absolutely fell in love with all of them. From strong, mysterious, loyal Ranmaru to creepy, funny Ren. From smart, warm and fatherly Yoshi to brave, kickass, feminist, perfect Okami. Yes, perfect, because how else would you explain him? Even Yumi, a minor character, enchanted me.
I enjoyed every scene with those boys. Every time they looked after each other, teased each other and even mocked each other. Like Mariko, I wanted to be a part of the Black Clan. And I got really emotional when she finally became one of them.
Speaking of side characters, I also liked Mariko's twin. I loved how complex he was portrayed. A brother who would stop at nothing to find his missing sister, but who was also blind in his loyalty to the emperor. A young man who loved a servant, but was afraid of standing up to his own father even though he knew the old man wasn't walking down the right path.
Having said that, while I enjoyed getting to know him, I wished there had been less chapters from his POV. And less chapters following the emperor, his wife and his concubine. But that's mostly because I couldn't get enough of Mariko, Okami and the Black Clan.
Oh, Okami, my love. *sighs*
Fair warning, this is when I start talking about the romance, so there'll be a lot of fangirling happening from now on.
The romance was everything. Everything. No, I mean it.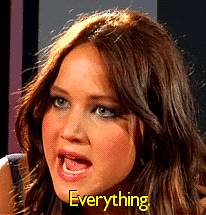 In the beginning, I wasn't sure if my heart would betray me. I thought the love interest would be one because of how the story started (with a boy seeing his honorable dead executed), but my heart had been claimed by another. Then, fortunately, Renee Ahdieh didn't make me suffer. She gave me exactly what I was hoping for. She gave me Mariko and Okami. She gave me life.
OTP life, which, in case you don't know, is the best kind of life for a shipper heart.
Mariko and Okami started with the kind of hate-to-love trope that kills me and brings me back to life. It makes me swoon and smile and tear up because I can't handle the feels. The angst was there. The want, the desire, the sexiness. I love how Renee Ahdieh isn't afraid to write sexy in YA in a tasteful way.
Okami held my heart in his fists from the moment he stepped into the story, long hair loose. He continued to charm me with his smart words, his loyalty, his strength. He intrigued me with his mysterious powers. He had me cheering when he showed himself as a true feminist. He completely destroyed me when he gave in to his feelings for her.
I simply couldn't look at any other boy as a love interest for Mariko. I wanted those two together. I waited for it to happen and I savored every single moment of it. It was, like I said, everything. So, thank you, Renee. Thank you for giving me another OTP.
Thank you for giving me a story about girls learning how powerful we are, about how much we can change the world by being us and by being strong and by loving, hurting and fighting. I love this book. I truly love this book.
*If you liked this review (or not), if you read the book (or not), come say hello and leave your comments bellow.