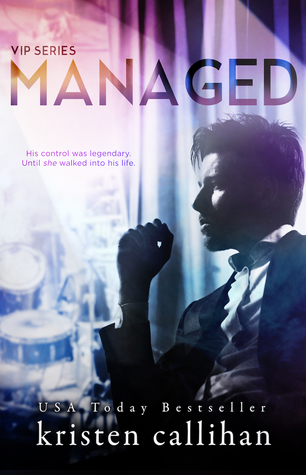 Image and blurb from Goodreads
Title: Managed
Publication date: November 14th, 2016
Category/Genre: Adult Contemporary Romance
It started off as a battle of wits. Me: the ordinary girl with a big mouth against Him: the sexy bastard with a big...ego.

I thought I'd hit the jackpot when I was upgraded to first class on my flight to London.

That is until HE sat next to me. Gabriel Scott: handsome as sin, cold as ice. Nothing and no one gets to him. Ever. He's a legend in his own right, the manager of the biggest rock band in the world, and an arrogant ass who looks down his nose at me.

I thought I'd give him hell for one, long flight. I didn't expect to like him. I didn't expect to want him. But the biggest surprise? He wants me too. Only in a way I didn't see coming.

If I accept his proposal, I leave myself open to falling for the one man I can't manage. But I'm tempted to say yes. Because the real man beneath those perfect suits and that cool façade just might be the best thing that's ever happened to me. And I just might be the only one who can melt the ice around his heart.

Let the battle begin…
4.5 "Sunshine & Chatty Girl" Stars
I can't deal with how much I love this series and Kristen Callihan for writing it.
In the end of 2016, I read Idol (VIP #1) and I fell madly in love with the rock'n'roll world Callihan created. Then I read the excerpt for the next book in the series, and I lost my damn mind. It was that good. I was eager to read more about the so-handsome-it-hurt-to-look-at Gabriel Scott (a.k.a. Scottie) and soon-to-be-my-book-girlfriend Sophie Darling, that I immediately requested it from the library.
Then I had to wait over two months to get my hands on that book… two months that felt like an eternity, just to get it and finish it in less than a day. The irony isn't lost on me.
But what else could I do other than devour that book? It was impossible to read it slowly. Every Kristen Callihan book I read so far (I also loved The Game Plan) begged me to start and finish it in one sitting. As it happened when I read Idol, the story simply took over my life. Those characters were merciless in their hold over my heart. I seriously love this series more than I can put into words.
And here's why… This book delivers on everything it promises. It's a sexy, engaging and entertaining story about intriguing characters who conquer you with every page. And it's funny AF.
I mean…laugh out loud in the first chapter, keep a smile in your face until the last one kind of funny. 10% in and I was massaging my jaw because it hurt from all the laughing and smiling I was doing.
Sophie is the one to blame here. This freaking woman is right up there with my favorite female characters ever, earning a spot on my "book girlfriend" list because I just love her so damn much. Her sense of humor is my everything, and it hooked me from the beginning.
"Jesus," I blurt out, lifting my hand as if to shield my eyes. "It's like looking into the sun."


"What?" he snaps, those laser-bright eyes narrowing. Oh, this will be fun.


"Just stop, will you?" I squint at him. "You're too hot. It's too much to take." This is true, though I'd never have the guts to say so in normal circumstances.


"Are you quite well?" he intones, as if he thinks the opposite.


"No, you've nearly rendered me blind." I flap a hand. "Do you have an off switch? Maybe put it on low?"
"Oh, I bet you'd find that marvelous; all of us helpless women just smiling and nodding. Though I'm afraid it would never work on me."
"Of course not," he deadpans. "I'm stuck next to the one afflicted with an apparently incurable case of verbal diarrhea."
"Says the man who is socially constipated."
The woman is borderline insane and I love her for it.
"You think if you sit there, looking petrified and tense, I'll offer a blowjob to distract you from it all."

My humiliation comes to a screeching halt upon hearing the word blowjob.


"What?"




"Well, it's not going to happen."

Ignore the cock. Ignore him. He's an idiot. Focus on the problem at hand. "You are deranged. Completely deranged."
There was no way to escape the pull a carefree, but yet intense character like Sophie had on me. She made me laugh as hard as she made Gabriel fall for her.
Sophie Darling, I love you. That is all.
No. That isn't all. There's more, of course, but I don't want to get too much into the plot because I think this is the kind of story you should go in knowing just what the blurb tells you. You should savor every moment with these characters because this book (this series, actually) is about characters.
Sophie and Gabriel make this story special. Sophie for her sense of humor and her strong narrative voice, and Gabriel for the angst and sexiness he brings to the story just by being…Gabriel. Yes, you guys, Gabriel just has to exist.
Described since Idol as the sexiest man any woman has ever seen, Gabriel is the kind of person you don't mess with and can't help but want to be near anyway. He exudes authority and sex appeal, but he doesn't let anyone in. Even though the guys from the Kill John band are his family, Gabriel has a hard time showing them how much they mean to him. He's closed off, he's serious and he's all-business 24/7…until Sophie.
I loved, loved, loved how Sophie's personality was the complete opposite of Gabriel's, but they still managed to bring the best out of each other just by being close.
Sophie's arc is a little lighter than Gabriel, since he seemed to be the one who had more baggage he insisted on holding on to. Sophie gave Gabriel the tools for him to open up and show the people around him how much they mattered to him, including her. With Sophie by his side, Gabriel could finally access a part of him that lay dormant for a while, and damn if it wasn't a pleasure watching him to do that. I fell so hard for him too. All the bossy, alpha attitude mixed with those sweet moments were enough to make my ovaries explode. Book boyfriend material for sure.
"I've lived my whole life denying myself what I truly want. And yet I cannot turn from you. Haven't you realized it yet? I am yours. I will always be yours, whether I touch you or not."




"You are my greatest weakness because I have no defense when it comes to you."
Every single moment between Gabriel and Sophie was spot on. The banter when they first met... spetecular. T
he chemistry melted my Kindle, the slow, so freaking perfectly slow burn, the way they denied themselves the satisfaction of being in each other's arms until we were all panting, the sweet relief when they gave in to their feelings, the hurt from the ghosts of the pasts coming to haunt them…everything was perfect. I wasn't ready for it to be over, and that's the highest compliment ever.
You know what else was perfect? The scenes with all of the guys from Kill John plus the women together. I just LOVE, LOVE, LOVE all of them, and I'm nowhere near done with those characters. Sophie fit right in, and they accepted her as part of her family in a way that made me all teary-eyed. I want so much more of those characters. So much more… I'm slightly disappointed that Kristen Callihan is working on another Game on book before writing another story for the VIP series, because that means I'll have to wait too damn long to see these characters again. NOOOOO. I need more now. RIGHT NOW.
Kristen Callihan, if you're reading this, please write the next book in this series. Please. Please. And do it fast. Meanwhile, I'll be here, dying a slow death.
*If you liked this review (or not), if you read the book (or not), come say hello and leave your comments bellow.