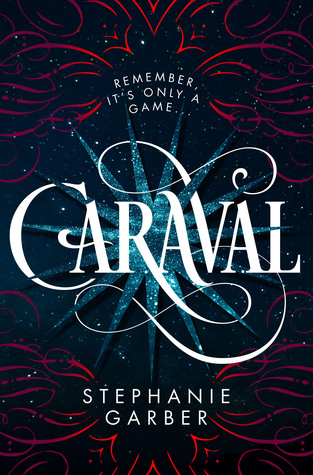 Image and blurb from Goodreads
Title: Caraval
Publication date: January 31st, 2017
Category/Genre: Young Adult Fantasy
Publisher: Flatiron Books
Remember, it's only a game…
Scarlett Dragna has never left the tiny island where she and her sister, Tella, live with their powerful, and cruel, father. Now Scarlett's father has arranged a marriage for her, and Scarlett thinks her dreams of seeing Caraval—the faraway, once-a-year performance where the audience participates in the show—are over.
But this year, Scarlett's long-dreamt-of invitation finally arrives. With the help of a mysterious sailor, Tella whisks Scarlett away to the show. Only, as soon as they arrive, Tella is kidnapped by Caraval's mastermind organizer, Legend. It turns out that this season's Caraval revolves around Tella, and whoever finds her first is the winner.
Scarlett has been told that everything that happens during Caraval is only an elaborate performance. Nevertheless she becomes enmeshed in a game of love, heartbreak, and magic. And whether Caraval is real or not, Scarlett must find Tella before the five nights of the game are over or a dangerous domino effect of consequences will be set off, and her beloved sister will disappear forever.
Welcome, welcome to Caraval…beware of getting swept too far away.
4.5 "Beware of Illusions" Stars
I've been anxiously waiting for this release since I first heard of this book more than a year ago. It first showed up on my blog in July 2016 for a #T5W post, but I'd already heard of it before that day. To say that I was eager to get my hands on it is an understatement, but the time finally came.
Let me just tell you that I was surprised at how long it took me to finish this book. Normally, when I start reading something I'd been dying to get my hands on for a long time, I tend to devour the story in a matter of hours. Caraval was different, though. For some reason I wanted to savor the story and read it slowly. In all honesty, it also didn't really strike me as the kind of book that begged you to sit and read it all at once, and the lack of that "addictive quality" was one of the reasons I didn't add another half-star to my rating.
That doesn't mean Caraval wasn't interesting or intriguing. In fact, intriguing is exactly the word I'd use to describe it.
Caraval
took me to the circus and added a whole lot of spin to it. It came with a warning that I forgot with every beautiful sentence Stephanie Garber's created: Remember, it's only a game.
Like Scarlett, the main character, I got lost in the magical world Legend created and started believing the impossible. That, right there, was exactly what made this book special to me.
The thing I loved the most about this book was how Stephanie Garber straight out warned me about the two most important things about this story in the beginning, then spend the rest of the time tricking me into forgetting it, just to bring those two things back in the end. For me, the ending was a "Told you so" moment in all its glory.
I've already mentioned the first important element about the story, and the second most important thing to remember about Caraval is the relationship between Scarlett, the leading character, and her sister, Tella.
Theses sisters' obsession with protecting each other moves the story, whether I saw it happening or not. Whether it seemed that way or not. For me, it was obvious from the start that Scarlett was willing to do anything to protect her sister. Tella's motivations and desires weren't as clear at first, but I never got the sense that Tella didn't love Scarlett. I knew they cared for each other. I was just surprised at how much.
Stephanie Garber used many tools to take my attention away from that relationship. She gave me a romantic relationship I could invest my time in (I seriously shipped Julian and Scarlett), magical elements that caught my attention (I'd pay a lot of money for that dress Scarlett was wearing) and a "villain" that, although mostly absent, was still more than just intriguing.
Legend, Caraval's organizer and a man known for his magical powers, had the kind of backstory that had me eager to learn more. At times, I felt like Scarlett, so desperate to know who he truly was that I suspected every new (and old) male character to be him. My feelings for Legend went from good to bad to so-damn-good. I can't say too much because I don't want to spoil anything, but I'll say this: I haven't had nearly enough of him. I need way more Legend, and I'm truly hoping book 2 gives me that.
Another thing I wouldn't mind getting another dose of is Stephanie Garber's writing. I was impressed with this author's prose from the beginning, and I thought it was the perfect fit for the magical theme. I know it went a little too heavy on some descriptions and metaphors, but it still worked for me.
The chemistry between Scarlett and Julian was also another positive. There was a lot of mystery surrounding Julian with all the secrets he was keeping, and a heavy tone of forbiddance since Scarlett was supposed to marry someone else, but that only made their love story stronger. Sure a week isn't a lot of time to get to know and fall in love with someone, but when you look at all those two went through, it seems a lot longer than that. Besides, mysterious, hot and charming Julian was hard to resist. I can't really blame Scarlett here.
While I LOVED Julian, I can't say Scarlett completely won me over. I identified with her insecurities and her need to protect her sister, and I recognize she had an interesting character arc, but there was something lacking. Maybe it took her too long to get over her fears. Maybe she acted a little too innocent and naïve at times. Maybe I was too confused by her ability to see emotions in color, which was never explained and didn't serve a purpose other than help her with one of the clues. Probably all the above. I also suspect it had something to do with the fact that I liked Tella a little bit more. The younger, braver sister had a fire to her that Scarlett lacked. From that prologue, I'm guessing I'll get to see more of Tella, so yay for me!
The ending of this book was pure perfection. No matter how hard I tried to guess what would happen, I never pictured it like that. It took me by surprise and it brought everything full circle. It spoke of the author's ability to not only put beautiful sentences together, but also choose a theme and stick to it. Now that I've read it, I can't think of a better way to end that magical story. Well done, Stephanie Garber, well done.
After waiting for what felt like forever to get my hands on
Caraval
, I'm pleased to say that it didn't disappoint. And if a bit of magic is what you're looking for, then I advise you to go get your ticket to Caraval.
*If you liked this review (or not), if you read the book (or not), come say hello and leave your comments bellow.