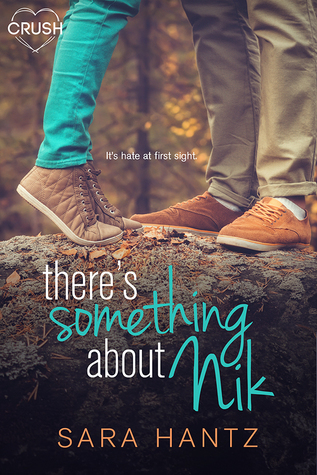 Image and blurb from Goodreads
Title:
There's Something About Nik
Release Date:
February 13th, 2017
Age Category/ Genre:
Young Adult Contemporary Romance
Publisher
: Entangled (Crush)
Nik Gustafsson has a secret: He's not really Nik Gustafsson.
He's not a spy. He's not crazy.
He's just the son and heir to one of the most important families in Europe—one where duty always comes first. And his posh, too-public life is suffocating him. So when he gets the chance to attend boarding school in America, pretending to be an average exchange student is too big of a temptation to pass up.
Then he literally runs into Amber on campus. And she hates him at first sight.
It's kind of exhilarating to be hated for who he is, not for his family name or his wealth. Maybe if he turns up the charm and turns down the aloof mask he habitually wears, he can win her over. Even though a bad past experience has made her swear off dating this year.
But the more he gets to know her, the more uncomfortable he is keeping things from her.
Because Nik Gustafsson has a secret. And it's a big one.
Disclaimer: This Entangled Teen Crush book contains a hot boy who's the strong and silent type, a studious girl who refuses to believe in fairy-tale romance, and one epic secret that could be disastrous if it comes to light.
2.5 "Princes and Boarding Schools" Stars
Thank you, Entangled: Crush!
My experience with this book surprised me. Unfortunately not in a good way.
First, this in Entangled Crush and 9 out of 10 times I love their books or at least enjoy them very much. Second, this has a prince pretending to be a commoner, and this trope often gives me all the feels. So, yeah, I was looking forward to this one.
The problem is, I couldn't connect with this book at all.
The first thing that bothered me about it was the promise in the blurb and this saying in the cover: "It's hate at first sight." Guys, I'm the biggest fan of the hate-to-love romance trope ever, so if you promise me any variation of "enemies to lovers", I want that delivered. This book didn't. There was a little bit of tension between Nik (the prince who's hiding his identity) and Amber (the future photographer who has a strong personality) in the beginning, but it didn't last nearly long enough. And though the blurb promised me hate at first sight, it never felt like that. She just didn't fall in love with him immediately, but she didn't exactly hate him, either.
That's the other thing about this book that didn't work for me, how all feelings and actions were overdramatized.
Amber wasn't sure she liked Nik when she met him, so she must hate him, right? No. That's too much. Hate is based on something strong, and there was nothing like that between them. She disliked his attitude, but, as far as I'm concerned, she didn't hate him. Even if she had, it still wouldn't have made much of a difference because they quickly shifted to friends and more. It didn't last nearly enough to have an impact.
Another example of overreaction here is when Nik can't stop thinking about Amber's hair. So Nik came from an European country. I get that. But does that mean every girl there had to have blonde, long hair, and Amber's short hair had to be this weird thing he needed to obsess over for a few paragraphs? No. Tons of women have short hair, so what's the big deal?
Amber was also a fan of making big deals out of small things. Like when Nik opened the door for her when they went out. She quickly went on about how weird that was because every other boy she knew didn't do this. I mean, come on. I like to think there are mothers out there still teaching their sons some manners. Give teenage boys a break, guys.
The same goes for how Amber overreacted to the fact that Nik had never taken the bus before. I mean, isn't everyone in that school supposed to be super rich? I don't know about you, but I watched enough Gossip Girl and 90210. Those kids did not take the bus. Most of them had drivers, or at least took a taxi when they wanted to go somewhere (maybe they'd be taking Uber now, but definitely not a bus). The fact that Nik had a driver back home shouldn't have been such a surprise to Amber.
The truth is I think there was a constant attempt to make things seem bigger than they were so Amber could be suspicious of Nik and the secret he was keeping. But it didn't work for me. Her reactions felt too big. Too dramatic. Too unrealistic.
Maybe this has something to do with the lack of world building. I understood where Nik was from and what his life was like back home, but I didn't know enough about Amber. I didn't understand her background enough to believe her reactions. I didn't know enough about most of the characters, to be honest.
I also missed knowing more about the boarding school they attended. I had it in my head that this was a rich-kid school (since a prince was going there, it had to be, right?), but I couldn't picture it. I didn't get enough details or information to draw a picture of the school in my head, which was a shame.
I guess what I'm trying to say is that I went into this book expecting something different (more tension because of the hate-and-love relationship it promised), but ended up getting distracted by some choices that kept pulling me out of the story. For that reason, I'm sorry to say I found it difficult to connect with Nik and Amber or feel their chemistry. I wanted to like this book as much as other Entangled Crush titles, but that didn't happen this time.
*If you liked this review (or not), if you read the book (or not), come say hello and leave your comments bellow.