Image and blurb from Goodreads
Category/Genre: Adult Contemporary Romance
Publication Date
: January 31st, 2017
"An amazing first novel." —Sydney Landon,
New York Times
bestselling author
In this sparkling debut novel, Mary Ann Marlowe introduces a hapless scientist who's swept off her feet by a rock star—but is it love or just a chemical reaction?...
Biochemist Eden Sinclair has no idea that the scent she spritzed on herself before leaving the lab is designed to enhance pheromones. Or that the cute, grungy-looking guy she meets at a gig that evening is Adam Copeland. As in the Adam Copeland international rock god and object of lust for a million women. Make that a million and one. By the time she learns the truth, she s already spent the (amazing, incredible) night in his bed
Suddenly Eden, who's more accustomed to being set up on disastrous dates by her mom, is going out with a gorgeous celebrity who loves how down-to-earth and honest she is. But for once, Eden isn't being honest. She can't bear to reveal that this overpowering attraction could be nothing more than seduction by science. And the only way to know how Adam truly feels is to ditch the perfume—and risk being ditched in turn
Smart, witty, and sexy, Some Kind of Magic is an irresistibly engaging look at modern relationships why we fall, how we connect, and the courage it takes to trust in something as mysterious and unpredictable as love.
"Frisky, Flirty Fun!" —Stephanie Evanovich, New York Times bestselling author of The Total Package
Buy Links:
Amazon
3 "Chemistry and Rock n' Roll" Stars
ARC via NetGalley
Thank you, Kensington!
I'd been dying to get my hands on this books for months. I'd even included it on two of my Top 10 posts (see here and here). So I'm more than sad to say that I didn't love it half as much as I thought I would.
I'll be completely honest here and say that my biggest issue with the book falls into the subjective area: I couldn't connect with the main character at all. The good news is, you might feel completely different about her and, therefore, the story.
The premise is really great (and so is the cover, by the way. Look at all that pretty together!!). Here we have a biochemist MC (yay for girls in science!!), who's really ambitious and wants to further her career, which is always great because GIRL POWER!
One of her coworkers is working on some experimental "perfume" that enhances pheromones, which could be interpreted as a "desire drug" or a weapon to help with seduction. The whole thing is a mystery for a while, because, you know, it's an experiment. Anyway… Eden is wearing that perfume (without knowing what it does, let's be clear) when she meets Adam. Yes, Eden and Adam *giggles*
And that's where some of my problems with the character start.
See, Eden has a bunch of criteria to even consider a guy datable. That's fine, right? So many people do that, whether they realize it or not. But the way Eden talked about hers, the way she acted around guys that she initially thought didn't check all the boxes on her list made me cringe. Big time. She came across as someone full of prejudice and not likable at all. At one point there, after having read 16% per cent of the book, I couldn't take it anymore. I just came to the conclusion that she was really, really unlikable. That was also when I started to feel super sad, because I knew I wouldn't be able to enjoy the romance. How could I when I didn't think Eden deserve Adam at all?
Adam was a nice, down-to-Earth guy who happened to be a rock star. He didn't act like one, and half the time he didn't look like one, hence why Eden didn't even want to spend the night with him. She thought he wasn't even in his league, she actually said that at some point, so why would she give him a chance at all? She ended up doing it (or him) just to find out he was Adam Copeland, the rock star. I should've been happy for her, but all I kept feeling was that she didn't deserve this. She didn't deserve to get him.
And she didn't even get that much better after she learned the truth about him. There's this scene when she goes out with him and he walks her to his car. A simple car, and she has the guts to say she's disappointed that he isn't taking her out in a limo, her "fantasy date ride".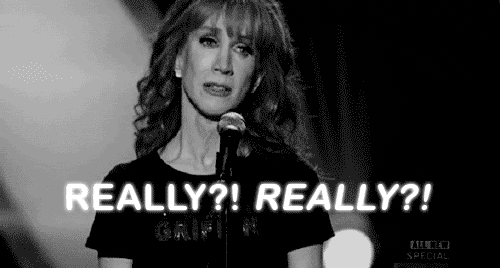 I mean, girl. No. Just no.
In all honesty, I could've (maybe) gotten behind her long check list for a date if I had gotten a really tragic or traumatic back story to back it up. I mean something strong that explained why she felt like she needed those very specific qualities in a guy to even consider him for a relationship. It needed to come a lot earlier than it did, because when we got an explanation it was (a) too late, I already didn't like her, and (b) too weak, because it didn't make me feel for her enough to change my feelings.
Then things just escalated from there for me. Maybe it was because I already didn't like her from the beginning, but everything Eden did ended up annoying me. She came across way too jealous for someone in a relationship with a rock star, way too insecure, and way too conniving.
I mean, we get to the heart of the premise: the seduction perfume, and Eden's action come across all wrong for me. While she initially didn't know what the perfume could do, she learned about the risks later and still chose to use it because she was afraid Adam would lose interest in her. Sure I get how a woman who isn't famous and rich might feel insecure around a rock star, but then to go ahead and risk making the whole connection fake so she could hold on to dating a famous guy a little longer? Okay, that's a bit nasty. She wasn't only with him because he was famous and rich. They did have chemistry and some sexy times together, but she didn't even know much about him. 78% in, and Eden is saying exactly that, "We didn't know anything about each other". And I'm like, yeah, girl, at this point in the story, you really should. Otherwise, doesn't it all come down to sexual attraction that might or might not have been caused by a chemical substance you wore around him intentionally?
Look, there were many good elements to the story. Adam was a really great character. The chemistry thing was interesting and kept me curious and wondering the entire time. I wanted to know if it worked or not. Despite my problems with Eden, she had good chemistry with Adam, and they got a happy ending that was pretty good and will certainly please romance fans.
I'm still giving it a mostly positive rating, because of those other good elements and also because it made me feel. Evoking emotion, be it good or bad, isn't something easy. It takes talent.
Unfortunately, I can't rate it higher because I couldn't enjoy this story as much as I had hoped, or as other people might, because Eden got under my skin right in the beginning, and I could never shake her away after that. Judging from all the good reviews on Goodreads, I might've been the only one, so you might want to give this book with its interesting premise and cute cover a chance and see for yourself.