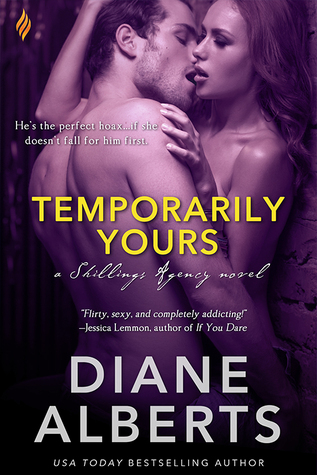 Image and blurb from Goodreads
Title: Temporarily Yours
Publication date: February 3rd, 2016
Category/Genre: Adult Contemporary Romance
Publisher: Entangled Brazen
This marine's the perfect hoax…if she doesn't fall for him first.
Stats whiz Kayla Moriarity knows her way around numbers and algorithms. Men, on the other hand, are unsolvable equations. Now Kayla's en route to her sister's wedding—alone and without the fictional boyfriend she invented for her family. Fortunately, her plane comes complete with complimentary cocktails

and a ridiculously hot ex-marine in the seat beside her. And that's all it takes for Kayla's inhibitions to go sailing out the airlock...
Cooper Shillings has soft spot for people in trouble, but he certainly wasn't expecting to land in it himself—and definitelynot

while getting naughty mid-air with a sexy southern belle. When he hears Kayla's predicament, however, he offers his services as a stand-in boyfriend. After all, he's heading overseas soon...and how could he refuse a little no-strings wickedness?
It's the perfect plan. And all Kayla has to do is ensure her family falls for the ultimate bluff, without falling for it—and Cooper—in the process...
Buy Link: Amazon
3.5 "Distraction is the best fear therapy" Stars
ARC via NetGalley
Thank you, Entangled Brazen
Let me just say that the beginning of this book reminded me a lot of Jennifer Blackwood's Landing the Air Marshal, also from Entangled Brazen. In both books, we have a heroine who's terrified of flying (I can totally relate) and a hero who's willing to help her through it with, let's call it, unorthodox methods… meaning, a little bit of sexy times. Not complaining here.
But that's where the similarities ended.
In "Temporarily Yours", we have Kayla as the main character. She's heading to her sister's wedding and getting ready to face her family and their non-stop questions about her (inexistent) love life. Kayla is single, and she wants to stay that way. She's busy with her career and comfortable in her own skin. She doesn't need a man to make her life complete. Go, girl!
Still, her family is always pushing her toward finding a partner, and Kayla is tired of all that. So she comes up with a solution: she pretends to be dating someone. The only problem is having a pretend boyfriend can be really tricky when she needs him to accompany her to the wedding.
Kayla's lucky girl, though. While she's freaking out at the airport before boarding her flight—she hates flying about as much as I do—she meets Cooper. He's traveling on business—in a matter of days, the ex-marine will be traveling overseas for a new job. Cooper and Kayla hit it off and, once he realizes she's terrified of flying, he upgrades his seat to first class just to sit near her and distract her. Sweet, huh? His distraction methods? Not so sweet.
From there on, Cooper and Kayla start a steamy romance that is meant to last just one night… or a couple of days, when Cooper offers to be her fake boyfriend.
But as Cooper and Kayla get to know each, they start falling in love. Again, sweet. And sexy.
That's the best way to describe this story. We have a quick read, with likable characters, a famous trope (fake relationship), some tension and a lot of sexy times. We also have sweet moments between Kayla and Cooper as they get closer and realize their feelings for each other aren't fake at all.
Again, Entangled Brazen managed to deliver on what it promised, because "Temporarily Yours" is a fun and sexy book you can read in a couple of hours and finish it with a smile on your face.
*If you liked this review (or not), if you read the book (or not), come say hello and leave your comments bellow.