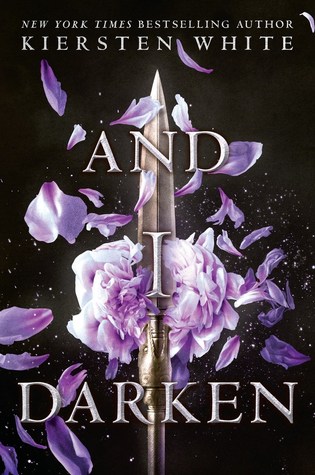 Image and blurb from Goodreads
Title: And I Darken
Publication date: June 18th, 2016
Category/Genre: Young Adult Fantasy
Publisher: Delacorte Press
No one expects a princess to be brutal. And Lada Dragwlya likes it that way. Ever since she and her gentle younger brother, Radu, were wrenched from their homeland of Wallachia and abandoned by their father to be raised in the Ottoman courts, Lada has known that being ruthless is the key to survival. She and Radu are doomed to act as pawns in a vicious game, an unseen sword hovering over their every move. For the lineage that makes them special also makes them targets.
Lada despises the Ottomans and bides her time, planning her vengeance for the day when she can return to Wallachia and claim her birthright. Radu longs only for a place where he feels safe. And when they meet Mehmed, the defiant and lonely son of the sultan, Radu feels that he's made a true friend—and Lada wonders if she's finally found someone worthy of her passion.
But Mehmed is heir to the very empire that Lada has sworn to fight against—and that Radu now considers home. Together, Lada, Radu, and Mehmed form a toxic triangle that strains the bonds of love and loyalty to the breaking point.
4 "Strong, stubborn and scary Lada" Stars
This book is good. Really good. But it's also sooooo long.
That was my main problem with this story. About 70% in, I was ready for it to be over. One of the biggest reasons I felt that way was because this book is low on action and fantasy. In fact, it doesn't really qualify as the kind of fantasy I'm used to. There's no magic, no supernatural being, no great unexplainable thing that makes me think for a moment this isn't set in the world as we know it (or as people hundreds of years ago knew it). This is a book about relationships, trust, bonds forged through fear and love. This is character-driven to the core.
It's a good thing that it has great characters, then.
I need to start with Lada, because she's the star of the show as far as I'm concerned. Lada is different. She isn't the naïve girl that gets caught in the middle of a war or some other big event and tries desperately to survive. Nope. She's the one who'll start a war if it means getting what she knows it's hers. Lada isn't the girl dropping everything because of love. She drops love for everything else. In fact, she won't even call it love because she's too busy dealing with more pressing matters, like trying to keep the new sultan from getting killed. Lada is strong, stubborn and scary. Lada will get her hands dirty, if needed. Lada will always protect the only two people who matter to her, even if it means dying in the process.
I like Lada, because she makes me question what she's doing and leaves me wondering if I'd do the same, or if I can blame her for her choices. Lada is complicated, and I love complicated.
While Lada was the one responsible for making me feel all sorts of things, the other two main characters also intrigued me.
I loved how Lada's brother, Radu, went from a scared little boy to a man who knew how to use what he had to engage and manipulate others. He knew he'd never be a warrior as good as his sister, but he had other weapons. Radu was the smartest of the tree, and it was a blast to watch him figure that out.
Lada and Radu's relationship was the real relationship of the story to me. Watching those two go from siblings who can't stand to each other, to the only link they had to their land, to survivals, to rivals, to whatever the heck they were in the end….was truly amazing. Though Lada was hard to love and Radu was at times more interested in his relationship with Mehmed than anything else, it was clear that those siblings loved each other.
Speaking of Mehmed, dude was clueless. There was so much going on right in front of him and he just didn't see any of it. I wanted to like Mehmed more than I did, but the fact that he was always depending on Radu and Lada to keep going annoyed me a bit. His love for Lada, though, touched me, especially toward the end.
The ending gave me major feels. You see, I'm a romance addict and everyone knows it, so my philosophy when it comes to books sounds a lot like that "love trumps all" sort of thing. When it doesn't, I can't help the disappointment. But I can't say love wasn't chosen in the end here. It was… Perhaps not in the way I expected, but in some way…. Because Lada chose her heart.
So, even though I wish this book was shorter (it took them way too long to go from kids to young adults) and had more romance or/and action, I still really enjoyed it because of the way it explored the great characters and their relationships. I still wouldn't call it fantasy, but it's an interesting YA title, nonetheless.
*If you liked this review (or not), if you read the book (or not), come say hello and leave your comments bellow.