#T5W
or
Top 5 Wednesday

is a weekly meme created by
Lainey & hosted on
the Goodreads T5W group. Come join us!
This week's theme is:
Books I Want to Re-Read
#Dreamfever
by Karen Marie Moning
It's been a year since my last reread, so I need to go back to my favorite series soon. Plus, chapter 4. Always Chapter 4.
#On The Fence
by Kasie West
Sometimes I crave a good contemporary romance YA and Kasie West can always deliver. This was my first book by this author and continues to be one of my favorites in this category/genre.
#AngelFall
by Susan Ee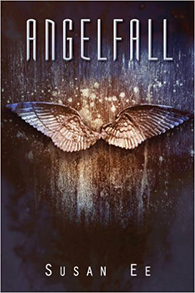 This mix of dystopia and paranormal YA is fantastic. Fabulous. Addictive. And I read it so long ago that I need to reread it before I dive back into this series and finally read the two sequels.
#A Court of Mist and Fury
by Sarah J. Maas
It took me forever and a little bit more to get my hands on this book after release date, and I ended up inhaling it in a matter of hours. So I need to read it again and take my time doing that. I also need my fix of Rhys.
So, what do you think about these choices? Have you read any of them? Share you opinion bellow.