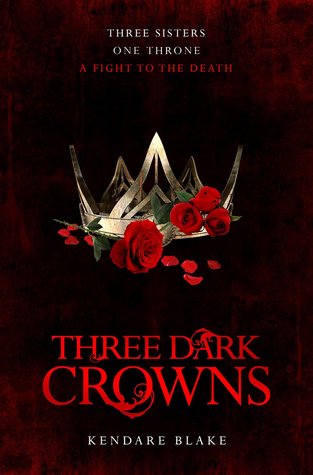 Title
: Three Dark Crowns
Author
: Kendare Blake
Publication Date
: September 22nd, 2016
Category/Genre: Young Adult Fantasy
Publisher
: Macmillan Children's Books
Three sisters. One crown. A fight to the death.

In every generation on the island of Fennbirn, a set of triplets is born: three queens, all equal heirs to the crown and each possessor of a coveted magic. Mirabella is a fierce elemental, able to spark hungry flames or vicious storms at the snap of her fingers. Katharine is a poisoner, one who can ingest the deadliest poisons without so much as a stomachache. Arsinoe, a naturalist, is said to have the ability to bloom the reddest rose and control the fiercest of lions.

But becoming the Queen Crowned isn't solely a matter of royal birth. Each sister has to fight for it. And it's not just a game of win or lose . . . it's life or death. The night the sisters turn sixteen, the battle begins.

The last queen standing gets the crown.
Goodreads
Buy Links:
Amazon
4 "I can't choose a Queen" Stars
Let me just say I'll be pretty pissed off if Kendare kills one of the girl in the end of this series. I mean it. It won't be pretty. Sure I should've thought about how painful it'd be to get attached to all three of them before starting this book, since the blurb is pretty clear that two need to die so one becomes the queen, but I don't care. I want all three of them alive.
Now that I got that off my chest…. Warning: This review contains minor SPOILERS, so proceed at your own risk.
Three Dark Crows
is the story of Queen triplets born with powers: one is a poisoner (she can eat every poisonous thing out there and she won't die or even feel anything), one is a naturalist (she can make flowers blossom and control animals; she'll even get her own familiar) and one is an elemental (she can control water, wind, the earth and so on). At the age of 16, these queens will start a ritual that will end with two of them dead and the most powerful one taking the crown. Creepy, huh?
The three sisters are raised by their people (poisoners, naturalists and elementals), and these groups all want their candidate to win, not only because they want the power that comes with the crown, but also because they genuinely love these girls. This was the first great surprise, in my opinion. Watching the powerful women in charge of raising the three queens protect the girls time and time again and show little (or big) signs of affection was something I didn't aspect from a story with such dark tones. So I applaud that.
The queens, Katherine (the poisoner), Mirabella (the elemental) and Arsinoe (the naturalist) all get their POVs, which means we get to know them better throughout the book. In fact, this is all the book seems to be about… Getting to know all the players in the game. It is slow, but it still managed to keep me interested. I blame it on the fact that I genuinely liked all three Queens. Some more than others, but I still didn't want any harm to come to any of them.
Mirabella ended up growing on me faster than the other two. I loved how she refused to let go of the memories of a time when her sisters were part of her life—before they were taken away to start their training and their journey that would lead them to kill one another. With her love for her sisters still intact, Mirabella became the one easiest one to relate to. And this plot choice was needed, because Mirabella was the most powerful Queen (the only one who had developed her powers fully), which meant something had to be holding her back or she would've destroyed her sisters. The only part of Mirabella's story that was troubling? The thing with Joseph. It pissed me off at times because cheating is a no-no for me, but I'm betting the whole thing has more to do with a spell going wrong than real feelings.
Katherine was my second favorite. I loved how fierce she was, even though she had no "gift". She was supposed to be immune to poison, but she felt sick every time she digested something poisonous. Still, the girl wasn't willing to stop trying. Poor thing. Unlike Arsinoe (the other giftless Queen), Katherine wasn't willing to go down without a fight. She still believed she'd be the next Queen. She got even more confident when Pietyr came along. Did I love those two together.... I truly think he loves her and has a good explanation as to what happened in the end, although I can't think of one. He has to… because that completely broke my heart.
I did love Arsinoe, too. It just took me a while to come to appreciate her as much as she deserved. Out of the three, Arsinoe is the one who's already given up on the crown, but it doesn't mean she's given up on her life. The girl is a fighter. She wants to survive, and that makes her careless and a bit selfish at times, but I can forgive her because her life literally depends on how hard she's willing to fight and how badly she's willing to break the rules. The thing I loved most about Arsinoe was how she treated and cared for the people around her—Jules, Billy, Luke… She really loved her people. I just wish she could've loved her sisters that much, too. Yeah, I get that she grew up thinking she'd have to kill them or they'd kill her, but Mirabella tried more than once to reach out to her, and being a giftless Queen (or so she thought), it would've made sense for Arsinoe to at least try to hear her sister out.
It disappointed me that the three sisters were so keen on killing or dying that they didn't stop to think that maybe, just maybe, they could challenge the order of things and find a way to stay alive. Maybe that's the direction the series will take after book 2? I mean after because with the way things ended, it seems like Book 2 will be all about the sisters finally trying to kill one another, which will certainly make it more action-packed than this one.
Some people have complained about the pacing, and while I agree with them that things moved slowly, I liked getting to know these characters. Sure it could've been a lot better if there had been more action, but, again, I'm betting that's how book 2 will go. With that totally surprising ending (I did not see any of that coming AT ALL) and the Queens now ready to get their revenges and the crown, I can't hardly wait to get my hands on the sequel.
*If you liked this review (or not), if you read the book (or not), come say hello and leave your comments bellow.