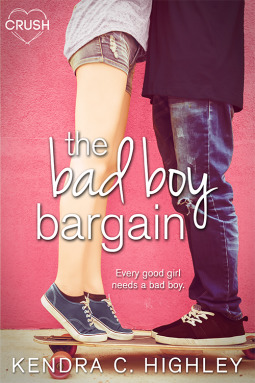 Title
: The Bad Boy Bargain
Author
: Kendra C. Highley
Publication Date
: November 14th, 2016
Category/Genre: Young Adult Contemporary Romance
Publisher
: Entangled Teen
Baseball player Kyle Sawyer has many labels: bad boy, delinquent, ladies' man, fearless outfielder… Only one of them is actually true. But then sweet ballet dancer Faith Gladwell asks him to help wreck her reputation, and everything goes sideways.
Faith knows a thing or two about love, and what she had with her cheating jerk of an ex wasn't it. When he starts spreading rumors about her being an Ice Queen, Faith decides it's time to let a little bad into her life.
Lucky for her, Kyle Sawyer—dark, dangerous, totally swoonworthy Kyle Sawyer—is landscaping her backyard over Spring Break. Shirtless. And if she can convince him to play along, "dating" Kyle will silence the rumors.
But Faith's plan threatens to expose Sawyer's biggest secret of all…and that's a risk he's not willing to take.
Disclaimer:
This book contains drop-the-book-and-fan-yourself kisses...and touches. Fall in love with a bad boy at your own risk.
4 "Fake relationship with a fake bad boy" Stars
Thank you, Entangled Teen!!
Kendra C. Highley did it again. A couple months ago I read my first book by this author, Defying Gravity, and I absolutely loved the story and the characters. It was exactly what I looked for in YA Contemporary, and it delivered on what Entangled Teen normally promises with its titles.
The same thing happened here with the second book I read from this author.
The Bad Boy Bargain
brings a common trope on romances (both in Adult and YA): the fake relationship, but I like how there's a certain spin to it.
After Faith, the MC, finds her soon-to-be-ex-boyfriend cheating on her, she's the victim of cyber bullying when the douchebag tells everyone else that he cheated because she was Ice Queen. Desperate to change her image, she asks the school's bad boy, Kyler, to pretend to be her boyfriend.
Normally when you have this trope, both characters are getting something significant out of the fake relationship, but this time I felt like the one really benefiting from that was Faith. I don't say that as a bad thing. The fact that Kyle didn't need to be blackmailed or even convinced into accepting what Faith proposed only made me like him better. Sure Kyle wanted to get back at Faith's ex-boyfriend because of something that had happened between those two boys in the past, but I genuinely feel like he said "yes" because he saw Faith needed help and he could offer her that. Also, he saw it as an opportunity to get close to this really cool girl. How can you not appreciate that?
I also loved the author's approach for their developing relationship. Normally, the characters fall in love while faking their relationship and trying not to go from fake to real. This time, though, I felt like they really never faked. Since most of the story happens when Kyle and Faith are on a school break, they actually do a lot less faking than usual. Their first date, for example, had nothing to do with the fake relationship. Kyle asked her because he wanted to take her on a date. Their first kiss was also detached from the fake relationship. So the fake relationship didn't have as much impact in this story.
The fake thing that caused the most drama here was Kyle's fake persona. Kyle, the bad boy who wasn't a bad boy AT ALL. He was the sweetest guy ever. Boyfriend material, no doubt. I loved everything about him. The guy was mega hot and had girls lining up to date him, but he was still a virgin. He was super rich, but he didn't take his trust fund and acted like a spoiled brat. Instead he found something he loved (gardening) and worked hard and started his own business at such a young age. He lost his mother, but he had the best relationship with his father and grandfather (LOVED his grandpa). He was bullied, but he didn't turn violent. As you can see, I loved the real Kyle, but the fact that he was awesome didn't keep me from understanding his reservations and why he pretended to be someone he wasn't. The whole thing made sense to me.
Faith was also great. Her passion for music and dancing, her respect for her parents, her friendship with Violet, her good-hearted nature…. Everything about her was great. Even her reaction to her crappy ex-boyfriend and how her revenge hurt him made sense and made her likable. She made mistakes and she recognized it. Go, girl!
The romance was everything I needed. Cute and sexy at times. The chemistry was great and the relationship was healthy (no stalking, no disrespect). I loved it.
Overall, this was another great YA Contemporary published by Entangled Teen that put Kendra C. Highley on my "yes, please" author list.