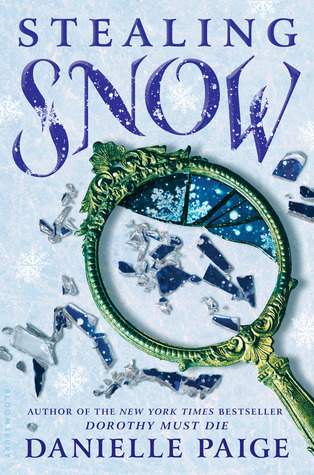 Publication Date
: September 20th, 2016
Category/Genre: Young Adult Fantasy/Retelling
Seventeen-year-old Snow has spent the majority of her life within the walls of the Whittaker Institute, a high security mental hospital in upstate New York. Deep down, she knows she's not crazy and doesn't belong there. When she meets a mysterious, handsome new orderly and dreams about a strange twisted tree she realizes she must escape and figure out who she really is.
Using her trusting friend Bale as a distraction, Snow breaks free and races into the nearby woods. Suddenly, everything isn't what it seems, the line between reality and fantasy begins to blur, and she finds herself in icy Algid--her true home--with witches, thieves, and a strangely alluring boy named Kai, none of whom she's sure she can trust. As secret after secret is revealed, Snow discovers that she is on the run from a royal lineage she's destined to inherit, a father more powerful and ruthless than she could have imagined, and choices of the heart that could change the fate of everything...including Snow's return to the world she once knew.
This breathtaking first volume begins the story of how Snow becomes a villain, a queen, and ultimately a hero.
ARC via NetGalley
Thank you, Bloomsbury USA Children!
The promise of a retelling that would show Snow as a girl locked into a mental hospital for years before she escapes to become a villain and a hero immediately got me thinking "yes, this is going to be different and fun."
Unfortunately only one of those was true.
"Stealing Snow" was different, but I can't say it was fun.
As promised, we're introduced to Snow as a patient of the Whittaker Institute. The first few paragraphs are really intriguing because they put a spin on the importance of the famous "kiss", but the rest of the book doesn't really live up to the story's potential.
Snow is a likable enough character, but I didn't feel like she wasn't the kind of MC that immediately grabbed my attention and made me want to be her best friend or even her enemy. She was okay. Just that. And being just okay isn't good enough to make her stand out in a genre filled with awesome characters in awesome retellings. I needed her voice to be more distinctive. Stronger. Bigger.
I was also not a fan of the writing style. There was a lot of telling and shifting back to past and info dumping in the first few chapters, which made it incredibly hard to get into the story. Snow started talking about what was happening with her at the moment, then something would catch her attention and she'd start talking about that other thing for so many paragraphs, that when she finally decided to go back to the first topic, I didn't even know what it was anymore. Confusing? Try reading through that over and over and over again. The narrative was too choppy for my taste.
There were cool elements to the story. After Snow went to Algid, things turned a little creepy and lots of different characters and creatures showed up. Unfortunately I was already bored and disconnected with Snow and the story, so those elements weren't enough to keep me interested or to change my impression of the book.
This had a great concept, and I expected to love it from the blurb and beautiful cover, but it didn't happen this time. *sad face*
*If you liked this review (or not), if you read the book (or not), come say hello and leave your comments bellow.