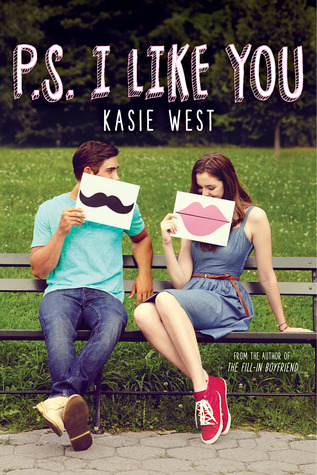 Title
: P.S. I Like You
Author
: Kasie West
Publication Date
: July 26th, 2016
Category/Genre
: Young Adult Contemporary Romance
Signed, sealed, delivered…
While spacing out in chemistry class, Lily scribbles some of her favorite song lyrics onto her desk. The next day, she finds that
someone
has continued the lyrics on the desk and added a message to her. Intrigue!
Soon, Lily and her anonymous pen pal are exchanging full-on letters—sharing secrets, recommending bands, and opening up to each other. Lily realizes she's kind of falling for this letter writer. Only, who is he? As Lily attempts to unravel the mystery
and
juggle school, friends, crushes, and her crazy family, she discovers that matters of the heart can't always be spelled out…
Buy Link:
Amazon
4 "I still love Kasie West" STARS
It's been a while since I last read a Kasie West book, which is weird because she released a new book last year (or so) and she *is*one of my favorite YA contemporary romance authors. But yeah, for some reason I was on a KW hiatus and, now that I'm back, I realize how silly that was because she still writes the cutest YA CR.
Ever since I heard "P.S. I Like You" was coming out I was anxious to get my hands on it, and when I finally did I couldn't stop reading until I reached the end.
Is it KW's best book? Nope. But is it super cute and swoony? Yep.
This is the story of Lilly, high school student and wanna-be songwriter, who's quirky and has a great sense of humor—one not everyone gets. She's not the most popular girl in school, and she basically has one friend, Isabel (who, let me tell you, is a great friend IMO). Lilly also has an archenemy, Cade (who also happen to be Isabel's ex-boyfriend), and a lifelong crush on a boy she can barely speak to. Lilly also has a big, weird and adorable family, and a complete lack of focus or interest when it comes to Chemistry.
That's why Lilly spends the entire class writing songs on a piece of paper and occasionally on the desk. One day, though, Lilly goes into Chemistry class and finds someone wrote part of a lyric from a not-famous-at-all band next to what she'd written. From that moment on, Lilly and the mysterious person start exchanging desk-notes that evolve to under-the-desk letters. You see where this is going, right? They share details of their taste in music and their lives, and start developing a friendship that soon turns into something else.
While Lilly's Chemistry classes are filled with anonymous letters, the rest of her life is filled with drama. She wants to take part in a contest that might lead to a money prize and the chance to work with someone who'll coach her and help her with her songwriting abilities, but she can't find time and inspiration to write. Her crazy family takes a lot of her time. Her best friend is set on finding a boy who doesn't think Lilly is totally crazy. Her love and hate relationship with Cade is getting more complicated with each second. And when she finally finds the courage to ask the guy she likes out, she doesn't feel there's a connection there.
See, there's a lot. And it's all very enjoyable to read.
Look, there's no real mystery here as to the identity of Lilly's pen pal, so I'm not going to bother to make a big deal and label any of what I'm about to say as SPOILERS. But just in case you haven't figure it out yet… SPOILERS:
Early on we realize Cade is the person writing back to her, but Kasie West does a good job explaining why Lilly didn't figure it out earlier. She was actually afraid of ruining the magic of having someone talk to her the way her pen pal did without mocking or thinking she was weird.
I'm a huge fan of the love to hate trope, as I've said countless times, so I loved that Cade was the one. But I wished we'd seeing more of them together instead of only seeing so much of Cade through the letters he wrote. For the first half of the story, I don't think we got enough Cade, and he was such a good characters. I needed more. A lot more.
Then we finally got him, and things started getting much better. I loved watching those two get under each other's skin, pretend they weren't attracted to each other, then pretend they didn't know they'd been communicating through letters. Loved it all.
Look, I understand Lilly isn't the most distinguishing character in the history of YA, but she was likable enough. She had interests that didn't revolve around a guy. She was good to her family and loyal to her best friend. I loved how she put her friendship with Isabel above her crush on Cade, and how she only went after him when her friend told her it was okay. Girlfriends before… you know.
The romance was super slow burn, something I'll never complain about, but like I said I do wish we'd seen more of them together at first. When we got it, it was cute and swoony, just what I expected.
Overall this was another great example of why Kasie West is one of my go-to authors when it comes to YA Contemporary Romance. Her books are impossible to put down before reaching the end.
*If you liked this review (or not), if you read the book (or not), come say hello and leave your comments bellow.