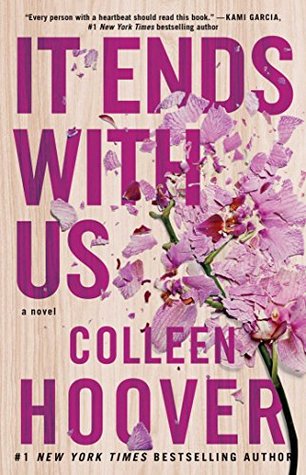 Publication Date
: August 2nd, 2016
Publisher
: Atria Books
Category/Genre: Adult Contemporary Romance
SOMETIMES THE ONE WHO LOVES YOU IS THE ONE WHO HURTS YOU THE MOST
Lily hasn't always had it easy, but that's never stopped her from working hard for the life she wants. She's come a long way from the small town in Maine where she grew up - she graduated from college, moved to Boston, and started her own business. So when she feels a spark with a gorgeous neurosurgeon named Ryle Kincaid, everything in Lily's life suddenly seems almost too good to be true.
Ryle is assertive, stubborn, and maybe even a little arrogant. He's also sensitive, brilliant, and has a total soft spot for Lily, but Ryle's complete aversion to relationships is disturbing.
As questions about her new relationship overwhelm her, so do thoughts of Atlas Corrigan - her first love and a link to the past she left behind. He was her kindred spirit, her protector. When Atlas suddenly reappears, everything Lily has built with Ryle is threatened.
With this bold and deeply personal novel, Colleen Hoover delivers a heart-wrenching story that breaks exciting new ground for her as a writer. It Ends With Us is an unforgettable tale of love that comes at the ultimate price.
This book contains graphic scenes and very sensitive subject matter.
Goodreads
I would
Befriend: Lilly
Go out on a date & kiss: Pre-shit-went-down Ryle

.

Take to a desert island and leave behind: Lilly's father

Travel to Vegas and let Elvis Presley marry us:

Atlas
5 "Raw and Naked Truth" Stars
This book ruined me. It spoke to me. It touched me. It made me laugh and fall in love and cry and beg for everything to be different but nothing to be different at all. I suspect this book will touch a lot of people, but it'll speak in a different level with only some, and it'll ruin even fewer. In any case, I doubt people will regret reading it. I know I didn't.
Let's just started by putting it out there that I'm a Colleen Hoover fan. Her writing speaks to me. I haven't read all of her books yet, but the few I've read are amongst my favorites from this category and genre. "It Ends With Us" is this author's best and most powerful book. No doubt.
I don't want to give spoilers, because I went into this book with no info other than what the blurb reveals, and OMG that was the best decision ever. Guys, do it. Don't read spoilers because it'll make the whole experience a thousand times better. Trust me on this one.
So if you see a spoiler-y review:
Instead of going into a detailed version of what happened, I'll just talk about the characters because this is a character-driven story and the people we got to know and follow were the best part of this book.
We can start with compassionate, strong, be-my-best-friend Lilly. I don't know what it is with Colleen and her MCs, but she always writes women that I want to be friends with. I LOVED Tate from "Ugly Love" and I love the women she wrote in this book, especially Lilly, who's so flawed that she's almost perfect.
Lilly who couldn't think of five good things to say about her dad when he died, so she stood up there and said nothing. Lilly who grabbed knives to defend the people she loved. Lilly who rescued homeless people because she couldn't sit and watch them hurt. Lilly who wrote to Ellen DeGeneres because she is a super cool and funny lady. Lilly who fell in love with a neurosurgeon and couldn't see him in scrubs without wanting to jump him. Lilly who couldn't forget her first love. Lilly who made the right decision simply because she chose love.
Lilly who made me laugh and cry and love her, just to hate her and love her back. Lilly who's still making me tear up as I write this review because she portrayed her flawed, independent, smart and strong women can be. I really, really loved Lilly. I wish she were real because I really, really want to hug her right now.
Then we have Ryle. OMG, Ryle. The man who made me fall in love with him hard. He was smart, honest, ambitious, hot, sexy and had an intensity about him that made it impossible not to be drawn to him. He practically got down to his knees and begged me to love him. Then he scooped me up and took me high, so high. Then he dropped me and ruined me. Just to pick me up again before dropping me one more time. The emotional rollercoaster this character took me…. The damn rollercoaster! I felt it all. I was Lilly and I loved him and hated him. I was Lilly, and that is the best thing I can say about Colleen Hoover's writing, because when it comes to Ryle, she made me feel every single thing her protagonist did for this man, and it hurt like fuck.
Enter Atlas, and I'm almost on the floor because I don't think I can take anymore. Those letters reminded me of what Colleen did with Miles' POV chapters in "Ugly Love" because they took me back and they made me feel way too much. Atlas was perfection. He was in need of rescue and at the same time he was rescuing Lilly, even back when he had nothing but his love to give her. My heart hurt for him and for what life had thrown his way. Then it inflated when I saw how far he came, and everything he did with his life. He was a fighter in more ways than one, and he fought his odds and won. I loved Atlas from the first moment, and much like Lilly, I never stopped loving him. He didn't mess with my emotions the way Ryle did, but my feelings for him were still strong.
Aside from these three major characters, I also loved Allyssa. Loved, loved everything about her. Her friendship with Lilly was perfection. Her marriage was amazing. Her sense of humor was spot on. Everything about Allyssa was right because she was exactly the kind of side character needed to break the heaviness surrounding this story. Colleen knew she had a weapon in Allyssa and she didn't overuse it, because she showed up when she was needed and she acted exactly the way we needed her to give some balance to the story.
Because if you went into this book thinking you were going to get a light, swoony and sexy read, then I'm sorry because you were probably really shocked. This book had swoony and sexy moments, but light isn't a word that can describe it. It was raw. It was powerful. It was exactly what I needed without even realizing how much so.
I adored its style—going from narratives in the present to letters that detailed the past. Showing us little details, like Lilly's tattoo, and then later using the past to explain and put those details into perspective. Giving us the chance to fall for characters with every step they took. Then allowing us to experience rage, then sorrow, then pity, all without taking away the love. Then delivering scene after scene toward the end that made me feel so many things together than I could barely breathe. That scene in the hospital when Lilly makes her decision? Wanting to hold Ryle while also understanding and agreeing with everything that was happening? Gut-wrenching.
Don't even get me started on how that scene explained the title and gave it a beautiful meaning.
Or how the last line in the book made me gasp. Or how perfect that ending was.
Or how much I loved and hated these characters and wanted to give all of them a group hug.
Yep, this book ruined me. In the very best way possible. Thank you, Colleen, for not holding back and for writing such a beautiful and painful story. Thank. You.