Publication Date
: May 3rd, 2016
Category/Genre: New Adult Fantasy
Feyre survived Amarantha's clutches to return to the Spring Court—but at a steep cost. Though she now has the powers of the High Fae, her heart remains human, and it can't forget the terrible deeds she performed to save Tamlin's people.
Nor has Feyre forgotten her bargain with Rhysand, High Lord of the feared Night Court. As Feyre navigates its dark web of politics, passion, and dazzling power, a greater evil looms—and she might be key to stopping it. But only if she can harness her harrowing gifts, heal her fractured soul, and decide how she wishes to shape her future—and the future of a world cleaved in two.
With more than a million copies sold of her beloved Throne of Glass series, Sarah J. Maas's masterful storytelling brings this second book in her seductive and action-packed series to new heights.
Buy Links:
Amazon
I would:
Befriend: Rhy's inner circle (Mor, Amren, Cassian, Azriel)

Go out on a date & kiss:

I want to say Tamlin, because I still feel for him, but I'd first beat some sense into him. But I also want to kiss Rhys. A lot. Like a whole lot.

Take to a desert island and leave behind:

the King of Hybern

Travel to Vegas and let Elvis Presley marry us:

Rhysand (I'm sorry Tamlin)
Last year, there was this book called "A Court of Thorns and Roses" and I read it and I loved it so much it made my "favorites ever" shelf.
In that book, I got to know a girl named Freyre (I still have to double check before writing), and she was a kickass heroine who fell in love with a fae-beast, Tamlin. And since Beauty and the Beast is my favorite fairytale, I fell in love with them.
But then things happened toward the end of that book, things that made Freyre different. Things that went by the name of Rhysand. Things that were hot, dangerous, dark and mysterious.
And then "A Court of Mist and Fury" happened.
The book I'd been dying to read since it came out, but couldn't because I knew I'd never be able to just read a little bit here and there through the week. The book I knew I needed a free weekend for. The book that made me stay up until 6 a.m. (something that hadn't happened in FOREVER) because it was impossible not to read it all at once.
The best book of the year happened and changed everything.
I don't know how people write reviews of this book without SPOILERS, but I ain't one of them, so beware that from now on:
If you're like me and suffer from "Dory-from-Finding-Nemo syndrome", you might want to reread the first book before starting "A Court of Mist and Fury" because you'll sure need to remember a lot of things. And you should, because, like I said above, that book is SOOOOO GOOD.
Anyway, ACOMAF starts after Freyre and Tamlin return to the Spring Court (Tamlin's home). Freyre is now immortal and has the powers of a High Fae, but despite being reunited with the man she loves, she isn't happy. And neither is Tamlin. They love each other, as it's easy to see, but they're both haunted by nightmares, guilt and the relationship-breaker lack of communication.
Freyre is dealing with the psychological consequences of her actions and what was done to her in the last book, as well as what she had to do to innocent people to save the ones she loved. Tamlin is dealing with his guilt for not having done more and saved her. Instead of dealing with all of that together, Tamlin and Freyre decide to suffer alone and bury their pain in a lot of hot sex. When I mean, hot sex, I mean HOT. Explict. Sex.
So, yeah, Young Adult my ass. This is New Adult, and it's GOOD, steamy, gimme-more New Adult. It's also everything I've ever asked for.
Okayy… Now that I'm done taking another cold shower, let's focus on the story.
So here we have Freyre having sexy times with Tamlin and getting ready to marry the man she sacrificed herself to save, the High Lord of the Spring Court. But she's losing herself to the nightmares caused by the things she had to endure while she was a prisoner at Under the Mountain in the process, and she can't even find joy in the wedding preparations.
Since the girl was tortured by Amarantha, forced to murder innocent people, then killed just to be resurrected as something else entirely, I wasn't expecting her to be all "ohhh, let's plan a huge wedding and be happy ever after". Her reactions in the beginning made a lot of sense.
And despite hating what I'm about to say, Tamlin's reaction also did. Because Tamlin, being true to who he was since ACOTAR, turned his protective personality on and didn't look back. He tried SO hard to keep Freyre protected from his enemies, afraid he'd lose her, that he didn't realize he was accomplishing that on his own. He was suffocating Freyre when she needed to be free. He was protecting her when she needed to learn how to protect herself. He was saying "no, you can't do this" when she needed a vote of confidence.
I hated it, but I don't blame Sarah J. Maas for staying true to the story and the characters. I hated it, but I didn't hate Tamlin, because I understood where he was coming from. Not in a way that justifies what he did to her, but in a way that speaks to who he'd always been. He's a protector. That's how he was raised and taught and lived LONG before Freyre came into his life. And that was who Freyre needed him to be during ACOTAR. But not anymore.
And despite loving her so very much, because, guys, he did. He loved her with everything he had (and that breaks my heart in tiny little pieces), Tamlin didn't realize he wasn't who Freyre needed anymore. He didn't see that they needed to adapt their lives to the reality of "After Under the Mountain".
And that's how he lost her.
I've seen people call Tamlin names or hate on Sarah J. Maas for breaking his character, but I'm sorry to disagree with all of those arguments (at least until that finale -- more later).
Tamlin isn't the bad guy. He isn't some cruel tyrant who locked Freyre inside their palace because he didn't want her to escape. He did it because his love for her made him blind to what she needed and to how far he was taking things. Was it wrong that he locked her in? Of course. No one in their right mind would question that. Did he know what he was doing? Probably. Did he realize what he was doing? I bet he didn't. Does that make it better? Heck no! That's why I applaud Freyre for not going back.
What I'm saying is… Tamlin was broken. Lost. Destroyed by guilt. Madly in love. Desperate to protect. And not strong enough to get his shit together in time to fight for his love.
I felt for him. I still do. And I love Sarah J. Maas because of that. I love that she managed to build a character that made me love him, then hate him, than feel for him. I feel for the love he has for Freyre, because that kind of love is just as powerful and it's deadly.
So, that's how Freyre and Tamlin, the couple I shipped so hard since the beginning of ACOTAR, started to vanish.
And that's when Sarah J. Mass beckoned me and said: "Remember Rhysand? Why don't you start looking at him?"
I mean, Freyre and I had been looking at him since last book, but now we really looked. Up close. And damn, we loved what I saw.
Remember how Rhysand made a deal with Freyre that involved her spending a week every month with him at the Night Court? Oh, yeah. I was excited for that part, too, and it was worth the excitement.
Even before Tamlin pushed Freyre away for good, Rhys (yes, we're close – deal with it) was already there whispering in her ear all the words of empowerment she needed. He was telling her she didn't need to be a pawn in anyone's game, she could stand on her own, make her own decision, rule her own life, and DAMN ISN'T THAT THE HOTTEST THING A MAN CAN TELL A WOMAN?
I was already halfway in love with him and the book had barely started.
Unlike Tamlin, Rhys was exactly the kind of person (not man – person) Freyre needed by her side. He was willing to give her the tools she needed to find herself again. To dig deep and learn who she was now that she had powers – and she didn't only have one power. As she had been brought back to life from all the High Lords, she kept a little bit of each of their powers. She could be this big dog, if she wanted. She could be so powerful, if she decided to let go of her guilt and fear and nightmares to become. And Rhys was willing to help or at least cheer her on.
Rhys, who was the bad guy every other High Lord feared or hated or distrusted in a sense. Rhys, who had manipulated, but also risked and saved Freye when she had no one else. Rhys, who suffered for 50 years as Amarantha's whore to keep his people from suffering in her hands. Rhys, who hid an entire city by lying and deceiving and handing himself over to the evil queen. Rhys, who loved his people and his friends (yes, he has amazing and totally shippable friends) so much he didn't think twice before sacrificing himself for them.
Yes, that's Rhysand. And if you haven't fallen in love with him yet, then I don't know what's wrong with you, because Freyre and I have.
And watching how Freyre went from distrusting Rhys, to becoming his friend to loving him? Almost ended me. And how hot they were together? Required me to take a lot of cold showers.
So, yeah. I jumped ships. Sorry, but you'll understand once you read it.
But all of that romance? All of those hot, steamy, sexy AF scenes? All the swooning moments? All the "Rhys, please make me your Freyre" thoughts you had while reading? Those were all amazing, but not the highlight of the book. What really deserves a round of applause is Freyre's character development. Because Freyre isn't the same girl we met when ACOTAR was released. By the end of ACOMAF, she isn't even close to what she was when the second book started. She isn't broken anymore. Freyre knows who she is and how important she is.
The best thing about watching Freyre go from one end to the other was realizing that she wasn't doing it out of love for this or that man. There isn't a moment when she thinks "Okay, so I need to be strong to impress Tamlin or Rhys". Sure they both influenced her, but her development is a product of Freyre learning how to be strong for herself. How can you not love that?
How can you also not love all the new characters introduced in this book? Rhy's inner circle was phenomenal. I loved each and every character, and I shipped them with one another like the crazy shipper I am. I even shipped one of them with Freyre's insufferable sister, Nesta. That's how amazing they are.
As you can see, there's a lot to love about ACOMAF.
Unfortunately, the ending isn't part of it. I am choosing to give this book 5 stars because I'm ignoring the end. The 5-star rating is a reflex of everything I said above and the fact that I stayed up through the night and woke up still feeling like I needed more (and this book is LONG, like really long). The rating is a reflex of how I'm ignoring the character assassination of Tamlin in the end, because I can't believe he'd do what Sarah J. Maas said he did. Everything that happened in the beggining made a lot of sense, like I already said, but those last couple of chapters? Nope.
So, if I don't ignore it, this book is a 4.5. But everything else? It's a huge 5 stars.
Because in this book, Sarah J. Maas broke my heart (Tamlin + Freyre), then gave me life again (Rhys + Freyre). She made my favorite characters make the stupidest decisions (I'm looking at you, Tamlin and Lucius), then showed me how she can turn a hated characters into a loved one (Rhys, I love you). She broke a character in tiny little pieces just to bring her back from the ashes (Freyre). She gave me friends I want to keep for life (Rhys's inner circle). She gave me love and heartbreak and tears and laughter and a lot of hot, steamy sexy scenes.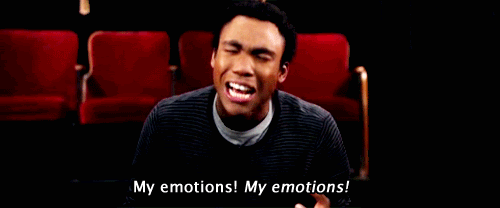 ACOMAF gave me everything I needed and a even what I didn't need, earning the "Best Book of the Year" title. Now I'm just going to go ahead and sleep until the next book comes out.
*If you liked this review (or not), if you read the book (or not), come say hello and leave your comments bellow.