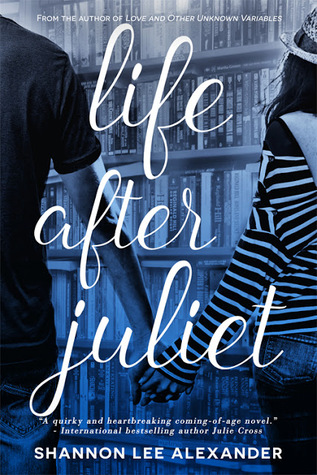 Image and blurb from Goodreads
Title
: Life After Juliet
Author
: Shannon Lee Alexander
Publication Date
: July 05th, 2016
Category/Genre: Young Adult Contemporary
Publisher: Entangled Teen
Becca Hanson was never able to make sense of the real world. When her best friend Charlotte died, she gave up on it altogether. Fortunately, Becca can count on her books to escape—to other times, other places, other people...
Until she meets Max Herrera. He's experienced loss, too, and his gorgeous, dark eyes see Becca the way no one else in school can.
As it turns out, kissing is a lot better in real life than on a page. But love and life are a lot more complicated in the real world...and happy endings aren't always guaranteed.
The companion novel to Love and Other Unknown Variables is an exploration of loss and regret, of kissing and love, and most importantly, a celebration of hope and discovering a life worth living again.
4 "Bookworm problems" Stars
Thank you, Entangled Teen!
This book was beautiful. As simple as that. Beautifully written. Beautiful message. Beautiful characters.
And this is a character-driven story.
I didn't read the first book, but after reading this one I want to because I know it'll break my heart but it'll be so worth it.
Becca Hanson is the main character in this second book and the sister of the love interest from the first in the series. She's trying to keep from falling apart after losing her best friend, and she's being finding the strenght to go through that hard phase in books.
As a bookworm myself, I can totally relate to that. Books take us from this world and allow us to forget for just a little bit (or a long time, depending on how many hours you have to get lost in them) our problems and our pain. For Becca, reading about someone else's life is much better than dealing with the hurt that is suffocating her.
Is this the best/right way to go about life? Probably not. But do we even know what the right way is? Definetely not.
So that's what Becca chooses to do - she pretty much stops living in the real world. Until Max Herrera happens.
Max is that sweet, super cute and kind of nerdy guy that steals your heart the moment he shows up. You can't help but fall for him because he's pure and honest and adorable and the kind of guy you want your daughter to fall in love because he'll probably never break her heart intentionally. I love this type of love interest as much as I love a good alpha male. As long as the author can make it feel real and authentic, and Max was real and authentic.
He was also very interested in Becca.
Max and Becca shared the same pain -- of losing someone important to them. But while Becca avoided people, Max surrounded himself with good friends. I absolutely loved their group of friends, especially Max's bromance with Victor. He was such a fun guy and their friendship was fresh and fun and interesting. Victor made me laugh more than once, and in a book with such a heavy topic like dealing with grief, it's always good to have a comic relief.
Victor's friendship with Becca was also a great addition to the story. He made her lighter and funnier in a way Max couldn't because he was also dealing with something heavy. In a way Darcy couldn't because she was a drama queen.
Darcy is another great side character in this book. She was mean without being too mean. She was honest even when she was being sneaky. She was complex. And that's always a positive when you're trying to make a character real feel like a real person. Sure there were times I wanted to slap some sense into her, but there were also times I wanted to hug her.
All these three characters - Max, Darcy and Victor - were important to the story because they helped Becca come out of her shell and want to live again. Some of them pushed her a little harder, others did it without meaning to, but they worked together despite not knowing that in order to help Becca. It was beautiful to watch.
Another positive was Becca's VERY HEALTHY relationship with her parents. I'm always happy to see a happy, functional family in YA. Her mother and father were there for Becca in the best way they could -- giving her space when she needed, allowing her to live when she decided to. There's this really cute scene with Becca and her mom texting each other that warmed my heart. Then there's her brother. Poor guy was a mess but held himself together. Like I said, I didn't read the first book, so I wasn't there when he lost the girl he loved, but I can only imagine how much it had to have hurt. Still he was trying to move on with his life and be there for his sister, so... dude, I think I love you. All the phone calls and texts between Becca and her brother were just too much for my poor heart, and I still love them all.
I'll repeat what I said in the beginning. This is a beautiful book. So go read it.
*If you liked this review (or not), if you read the book (or not), come say hello and leave your comments bellow.