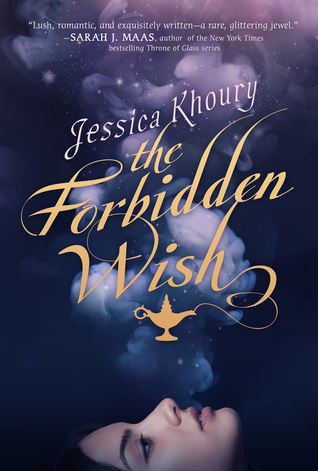 Image and blurb from Goodreads
Title
: The Forbidden Wish
Author
: Jessica Khoury
Publication Date
: February 23rd, 2016
She is the most powerful Jinni of all. He is a boy from the streets. Their love will shake the world...

When Aladdin discovers Zahra's jinni lamp, Zahra is thrust back into a world she hasn't seen in hundreds of years—a world where magic is forbidden and Zahra's very existence is illegal. She must disguise herself to stay alive, using ancient shape-shifting magic, until her new master has selected his three wishes.

But when the King of the Jinn offers Zahra a chance to be free of her lamp forever, she seizes the opportunity—only to discover she is falling in love with Aladdin. When saving herself means betraying him, Zahra must decide once and for all: is winning her freedom worth losing her heart?

As time unravels and her enemies close in, Zahra finds herself suspended between danger and desire in this dazzling retelling of Aladdin from acclaimed author Jessica Khoury.
From all Disney's princes,
Aladdin
is probably my favorite one – that might be because he's not a prince at all. He's just this very clever guy, who's trying to make the best out of a bad situation -- a guy trying to survive. So, yeah,
Aladdin is a pretty cool guy, and believe it or not, when I started reading this story I'd completely forgotten Aladdin was part of it.
Call me crazy (especially since the second word in the blurb is actually "Aladdin"), but my brain tricked me and I was pleasantly surprised when I realized he was part of the story. I mean, it was easy enough to guess that from the first couple of pages, but when his name came up I totally fangirled – not ashamed to admit.
Jessica Khoury's Aladdin is just as clever as the boy from the movies – he's full of life and ready to fight for what he wants. And what does Aladdin want now that Jasmine is out of the picture?
But don't worry, love will still touch the thief's heart.
Enough about Aladdin for now, because this is really not his story – no wonder I forgot he was even in it. In a super cool twist, this is the story of the jinni and she's (yep, a girl) is the one telling it to us.
Zahra, a very powerful jinni, was locked inside her lamp for centuries and imprisoned among the ruins of an ancient town she was accused of destroying. According to legend, she betrayed her master - the Queen – and started a war between humans and her kind, which led to the city's destruction and the Queen's death. Now, hundreds of years later, she's out of her lamp and answering to a new master, a clever and handsome boy, Aladdin. But above everything else, Zahra wants her freedom.
So after just a few dozen of pages we already have these characters' goals clearly presented to us: Aladdin's revenge and Zahra's freedom. To get what he needs, Aladdin needs Zahra, and the jinni needs the thief to achieve her freedom (not in the way you'd think, because wishing a jinni's freedom is forbidden). The only catch is while Aladdin is truthful about his intentions; Zahra deceives him to reach her goal. This feels like another twist on the original (Disney) tale, doesn't it?
So here we have a jinni (a girl) who is extremely smart, much smarter than Aladdin, so much so that she's manipulating him into believing she's following his wishes without second intentions. I can't recall a single opportunity Aladdin shows any sign he's catching on to her plan. And that pleases me more than it should. Why? Because it's refreshing to see girls outsmarting boys and saving them instead of the other way around.
Zahra is the one with all the power, and she's not afraid to use it. She's also not afraid to

not

use it when she thinks the person doesn't deserve it – and it doesn't make her look bad. I thought it was endearing and extremely funny when she chose to let Aladdin deal with the problems he created.
"For now, I shadow them silently, waiting to see what they will do. To be honest, I am bit vexed with Aladdin at the moment, and not very inclined to swoop in and save his drunken hide."
Besides, despite to limitations that come with being attached to the lamp, Zahra does her best to reach her goal. She doesn't sit around and wait for someone else to figure things out for her. She doesn't let the lamp or having a master stop her. Actually, she uses her mind when her power fails her. *claps*
That's not the only time Jessica Khroury shows us how amazingly empowering for women this book is. She gifts us with a princess who's a badass warrior and is surrounded by more badass warrior friends. It's so much girl power that I almost tear up. Forget Aladdin and the other boys/men featured in this book, because this is a story about strong women taking control of their lives and the lives of those who matter to them and making things happen.
Zahra outsmarts Aladdin, the villain, the King of the Jinni and every other men in her way. Princess Caspida (who was maybe a reference to Jasmine, but is nothing like the Disney princess) bleeds for her people, fights for them and wins the battle in the end because she's not willing to give up. And believe it or not, these two amazing girls do NOT waste time fighting over Aladdin's love. There's no real love triangle, because while Zahra falls for the thief, the Princess is too damn busy trying to rule.
You heard me right. Don't believe it? Go read it!
So, yeah, this is a book about girls being awesome and sticking together and doing what matters.
Sure, this is also a book about the very cute and forbidden romance between Zahra and Aladdin. I have to admit I swooned repeatedly. Chapter Fourteen was life! And that little deal with the ring in the end ("Find me, Prince")

made me gasp, tear up and hug my Kindle because it was perfection, BUT the romance was not the heart of the story.
You know what else was amazing? The writing. OMG, the writing was just superb. It reminded me at places of Renée Ahdie's impressive ability to put words together and make magic. Jessica Khoury went above and beyond to show us a vivid word full of magic. The way she described Zahra's power every time she granted a wish? Just perfection. I was truly impressed.