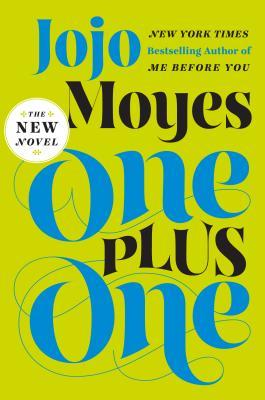 Image and blurb from Goodreads
Title: One Plus One
Author: Jojo Moyes
One single mom. One chaotic family. One quirky stranger. One irresistible love story from the New York Times bestselling author of Me Before You
Suppose your life sucks. A lot. Your husband has done a vanishing act, your teenage stepson is being bullied and your math whiz daughter has a once-in-a-lifetime opportunity that you can't afford to pay for. That's Jess's life in a nutshell—until an unexpected knight-in-shining-armor offers to rescue them. Only Jess's knight turns out to be Geeky Ed, the obnoxious tech millionaire whose vacation home she happens to clean. But Ed has big problems of his own, and driving the dysfunctional family to the Math Olympiad feels like his first unselfish act in ages... maybe ever.
My thoughts:
4.5 "Jojo made me feel again" STARS
God, I loved this. I mean. Loved loved loved this.
Jojo is quickly turning into one of my favorite writers. She never fails to take me on a emocional ride. I laugh, I cry, I feel everything.
I'll be honest here and say I'm normally not a big fan of books with MCs that already have kids. I don't know why. Maybe because I'm not a parent yet (which sounds stupid, I know), but I often find myself looking for books with single leading characters. Stupid confession over. But I picked up this book because it's Jojo Moyes and I LOVED "Me before you" so damn much that I had to read something else by her.
I'm so glad I did.
Jess is a divorced parent to two kids - one kid and one teen, actually, and she's struggling. I mean, she can barely pay her bills. One of her kids - the 10yo girl - is a math genius and the teenage boy is getting beat up by bullies. Her husband left them years ago and he doesn't help her with anything. Bottom line, Jess's life sucks. Big time.
But Jess is an optimist. The kind who gets on your nerves. Sometimes you just want to shake her and tell her to get a grip. But she has such a big heart that you kind of feel bad for wanting to do that to her. Did I mention the teenage boy isn't her biological son (he's her ex-husband's son from another relationship), but she never treats him differently from her biological daughter and she keeps taking care of him even after her ex leaves them? Nope? So, yeah. There it is. The girl is a saint. You want to slap her because she's a saint. You want to hug her because of that too.
So Jess is a fucking awesome and complex MC. Jojo, thank you for that!!!
And her kids? they're a fabulous. I want a Tanzie to be my kid. No. Seriously. I do. She's not only so smart that I didn't know what she was going on about half the time (man, I really suck at math, but that wasn't a surprise), but she's funny and took over her Mom in the good heart department. I loved the kid!
The same goes to Nicky. He had every right to behave like a stubborn, annoying teenager. First, he was a teen. Second, he was left by his mom and dad. Third, he was hit by bullies almost on a daily basis. Fourth, he was different and didn't feel like he belonged anywhere. But Nicky didn't choose the typical path; he was sweet, he cared for his family, took care of his little sister, worshiped the woman who raised and loved him; and was accepting of the strange man who came into their lives to try to help them. *high fives Nicky because he's the best*
Then we have Ed. Poor Ed. He's such an idiot, but a good idiot. Ed is a complicated character in the sense that he wasn't supposed to be so likable. He did something to the woman he was sleeping with that was pretty douchey. He was a workaholic. He ruined his promising career because he acted like an asshole (see reason number 1) and a bit of a coward. He was portrayed as a bad son for more than half of the book. He was a douche bag yet again when he first met Jess. So yeah. How can we fall in love with Ed? I'm not sure, but I'm guessing it has something to do with the fact that life kicks his ass. His actions come back to haunt him and his perfect world starts crumbling, and it's a train wreck that you can't stop staring at while feeling sorry for everyone involved.
Jojo somehow managed to take all of those flaws and still make him likable. I don't know how she does it, but I was seriously rooting for Ed.
I was rooting for every single character -- maybe not all of them. I wanted Jess's ex husband to die a slow death.
And don't even get me started on Norman -- the freaking dog who had a major farting issue. Man... Norman was the best. He made me laugh so hard. And then cry even harder. I'm a dog person -- that's pretty clear by my profile pic-- so I love when authors include dogs in their stories. Norman served many purposes and I'm so so glad he was a part of this.
That's it. Jojo did it again. She brought tears. She brought laugher (the scenes when Nicky and Tanzie leave the hotel right after breakfast and the moments after Ed eat the kebab are just priceless). She made me feel.