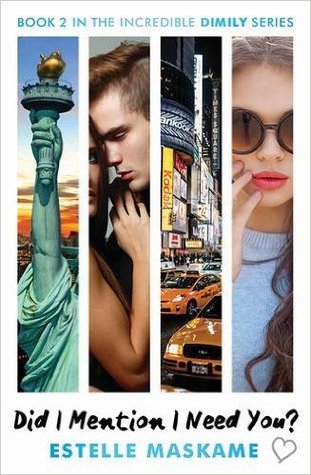 Title: Did I Mention I Need You?
(DIMILY series #2)
Author: Estelle Maskame
It's been a year since eighteen-year-old Eden Munro last saw Tyler Bruce: her stepbrother…and her secret love. Although they called time on their forbidden relationship for the sake of their family, Eden can't help but feel excited when Tyler invites her to join him in New York City for the summer.
Anyway, Eden is happy with her boyfriend Dean, and surely Tyler has moved on too. But as they spend a long, hot summer in the excitement of the city that never sleeps, it soon becomes obvious that they aren't over each other. But can they resist temptation?
In Did I Mention I Need You?, the second volume of Estelle Maskame's phenomenal DIMILY trilogy, Tyler and Eden must face up to their feelings and decide what to do next. Is their love strong enough to face the challenges that lie ahead?
My thoughts:
2 "Being his stepsister is the least of your problems" STARS
I'll start by saying I didn't read the first book in the series. Somehow I ended up requesting the second one without realizing there was a first, but I have to say the author managed to write a sequel that didn't leave me lost. I was able to follow the story quite well and maybe that was a result of how far the main characters were from home and everyone else they knew during most of the book.
For most of the book, Eden and Taylor explored New York City's most famous places. I went to some of those places just a few months ago, so the memories were still vivid. The author did a good job describing the city and its many attractions.
Though the setting was a big part of the story, the main focus was Eden and Taylor's complicated and (I have to admit) sort of addictive relationship.
Eden, the main character, leaves California to go to New York for six weeks, where her stepsibling Tyler has been living for the past year. Hmmm. Funny that I can't recall what he's been doing there all this time, but… A normal trip, right? Except Tyler and Eden are stepsiblings who are in love with each other. Yeah, stepsiblings in love. Sure the "idea" is a sort of taboo, and maybe I'm only saying this because I didn't read the first book, but I didn't find it to be a big deal at all. Tyler and Eden weren't related in any sense – apparently their parents only got married two years ago. Not like you're supposed to see this perfect stranger as your new sister/brother just because your parents decided to get married. But I get that Taylor and Eden felt differently, so I went with it. And, like I said, their dysfunctional relationship was kind of addictive. It left me wanting to read more and see what was going to happen next.
I kept going and going… until I couldn't go anymore because of one very specific problem: the cheating.
See… Eden had a boyfriend. A cool and sweet boyfriend who really loved her. Even though she knew she was going to be spending the next few weeks with Tyler (the boy she'd fallen in love with two years ago), Eden didn't think of breaking up with her poor boyfriend before she left. Dick move. Eden knew she was going to cheat on Dean (the boyfriend). The only way she'd stay faithful to her relationship with Dean would be if Tyler was dating someone else and was over her (and knowing them now, I doubt that would've stopped them). So she said goodbye to her boyfriend after he took her to the airport, boarded a plane and erased every memory of the two of them. Not literally, but still. She didn't call. She barely thought of him. She certainly didn't care.
So, yeah. The book went downhill after the cheating, especially because the cheating could've been avoided. If only Eden had thought about other people's feelings… If only she hadn't been so selfish…
But I can't blame it all on Eden. She was the one in the relationship, but Tyler was Dean's best friend. Yep. The boyfriend's best friend. Dick move #2. I'm not saying he should've called Dean and broken up with him for Eden, but he certainly should've made sure she put a stop to that relationship before they started hooking up. Cheating isn't cool, dude. Never. Cheating on your best friend is even worse.
The cheating element was a huge part of the book. It went on and on for so many chapters that it made it was impossible to ignore it or try to concentrate on anything else. That's why this review is highly focused on it.
To be perfectly honest, if it weren't for this, I would've probably rated this book a 3.5 or better because it had a good premise, Tyler was an interesting, complicated character with a rich back story and the writing was good. Not sure how I would've felt about Eden since she was immature and selfish, but breaking up with Dean before going to NYC would've shown her under a different light and given her room to grow as a person.
The ending - Tyler's choice - almost saved the book for me. He did the right thing. His motive was strong and made so much sense. I'm proud of him. But unfortunately, I couldn't get over that one big choice (the cheating) and it ruined the book for me.
For the other books in the series:
Did I mention I love you? (DIMILY series #1)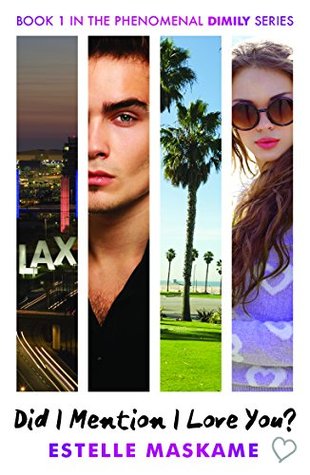 Did I mention I miss you?
(DIMILY series #3)