Image and blurb from Goodreads
All's fair in love and work. The first standalone romance by
New York Times
and #1 international bestselling author Christina Lauren (
Beautiful Bastard
) is a sexy, compulsively readable romantic comedy that dives headlong into the thrill and doubt of modern love.
Despite the odds against them from an embarrassing meet-awkward at a mutual friend's Halloween party, Carter and Evie immediately hit it off. Even the realization that they're both high-powered agents at competing firms in Hollywood isn't enough to squash the fire.
But when their two agencies merge—causing the pair to vie for the same position—all bets are off. What could have been a beautiful, blossoming romance turns into an all-out war of sabotage. Carter and Evie are both thirtysomething professionals—so why can't they act like it?
Can Carter stop trying to please everyone and see how their mutual boss is really playing the game? Can Evie put aside her competitive nature long enough to figure out what she really wants in life? Can their actor clients just be something close to human? Whether these two Hollywood love/hatebirds get the storybook Hollywood ending or just a dramedy of epic proportions, you will get to enjoy Christina Lauren's heartfelt, raucous, and hilarious romance style at its finest.
4 "Hollywood, Agents & Enemies" Stars
This isn't my first book by Christina Lauren, but it'd been a while since I've last read something by them. I mean "them" because in case you don't know (somehow I'd either completely forgotten about this detail), Christina Lauren is the pen name of two authors.
I picked up Dating You / Hating You because (a) I'd seen people talking about it on Goodreads and (b) it had a "enemies to lovers" premise. What I hadn't known then was that the authors would add a spin to that trope.
The book starts with Evie showing us a little bit of what life as an agent in Los Angeles is like. As a thirty-something-year-old single woman, Evie is highly focused on her career, which makes dating harder than it already is. She meets Adam, who also works as an agent, and they immediately hit it off. The chemistry between them is palpable from the beginning, and at that point I was practically yelling: WHERE ARE MY ENEMIES FALLING IN LOVE?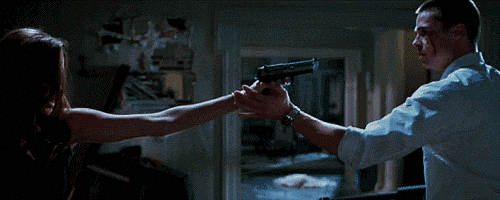 Then the book changes its approach and BAM, I start to see my favorite trope take form.
Adam and Evie used to work at different agencies, but not anymore. Their agencies merge and their insufferable boss forces them both to fight for the same spot in the company. First thing I'll say about this development, it made Dating You / Hating You read a little bit too close to The Hating Game. That's not exactly a bad thing, but it led me to start comparing both stories, and I'm afraid to say Dating You / Hating You wasn't as intriguing as The Hating Game.
That criticism aside, I still fully enjoyed reading this book. Evie and Adam's passion for what they did for a living bled through my Kindle, and it made it quite entertaining to watch them fight with everything they had to keep their job and drive each other crazy. I liked how they tried to resist being enemies for a while, but the pull to cross to the "dark side" was too strong. Their pranks were hilarious. Their chemistry stayed strong from start to end. The sexy scenes were sexy.
So, even though Dating You / Hating You chose a path that ended up taking it too close to another recent story, it managed to stand out by focusing on an interesting business (who doesn't love Hollywood stories?) and building enough chemistry between the main characters that I simply had to read until the end to get my happy ending.