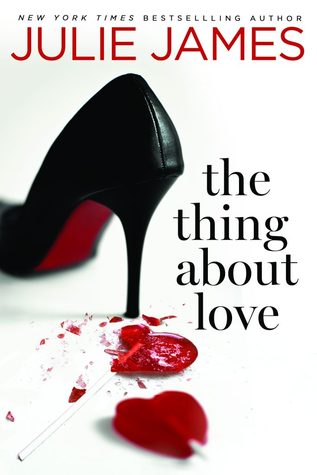 Image and blurb from Goodreads
Title
: The Thing About Love
Author
: Julie James
Publication Date
: April 18th, 2017
Category/Genre: Adult Contemporary Romance
Two undercover FBI agents can hide who they are from everyone but each other in the latest novel from the New York Times bestselling author of Suddenly One Summer.

FBI agents Jessica Harlow and John Shepherd have a past. The former lawyer and cocky Army ranger clashed during their training at Quantico, gladly going their separate ways after graduating from the Academy. Six years later, the last thing either of them expects is to run into each other again–assigned to work as partners in a high-profile undercover sting.

For both of them, being paired with a former rival couldn't come at a worse time. Recently divorced from a Hollywood producer and looking for a fresh start, Jessica is eager to prove herself at her new field office. And John is just one case away from his dream assignment to the FBI's elite Hostage Rescue Team. In order to nail a corrupt Florida politician, they'll have to find a way to work as a team–a task that becomes even trickier when they're forced to hole up at a romantic, beachfront resort as part of the investigation. Suddenly, the heat behind their nonstop sparring threatens to make the job a whole lot more complicated. . .
I often forget how much I enjoy Julie James' books. Then I read her new one and my love for her writing comes back all too quickly. One thing I'll say, this author has yet to disappoint me.
In The Thing About Love, Julie James brings her expertise in writing special agents falling in love and my all-time favorite romance trope, enemies to lovers. There was simply no way I wouldn't love this, right?
This book was easy to read and a whole lot of fun.
Former FBI Academy rivals Jessica Harlow and John Shepherd

meet again when they're assigned to work on an undercover case as partners. They're both facing complicated situations in their personal lives, since John was cheated on and Jessica had recently gone through a divorce, but their careers couldn't be going any better. John, for example, is about to join FBI's elite Hostage Rescue Team: the place where all the toughest agents gather together to face the deadliest challenges and save people's lives. BTW, I'd love to read a series about men (and women) in the Hostage Rescue Team. Can Julie James start writing it, please?
Since John and Jessica had a past that was all that friendly, working together was a challenge. Working together when they realized their past rivalry was mostly fueled by their attraction to each other was even harder.
I loved the dynamic here, because although there was tension and rivalry, these two were really respectful of each other. It's so easy to fall into a trap when writing enemies to lovers, but Julie James never did. It could easily see how Jessica and John admired each other and recognized each other's strengths. That made me admire them a lot more.
John and Jessica were also great characters individually. They were strong, career-focused, but still found time for their families, intelligent and passionate.
Another thing I could easily relate to was the case they were working on. Unfortunately, corruption is a reality in my country. Finding a politician who isn't involved in a corruption scandal has become almost impossible, so I had no trouble understanding and following the case.
I've come to expect great things from Julie James' books, and after reading my fifth book by this author, I can safely say I'll read whatever she writes next.
*If you liked this review (or not), if you read the book (or not), come say hello and leave your comments bellow.