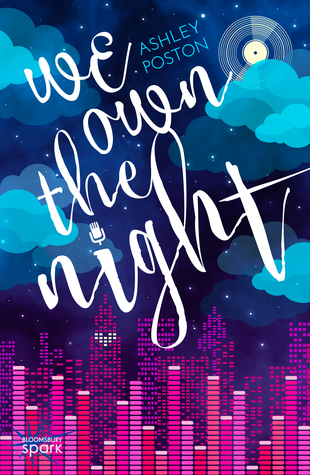 Image and blurb from Goodreads
Title
: We Own the Night
(Radio Hearts #2)
Publication Date
: June 28th, 2016
Publisher
: Bloomsbury Spark
"Happy midnight, my fellow Niteowls..."
As a candy store employee by day, and mysterious deejay "Niteowl" by night, eighteen-year-old Ingrid North is stuck between rock 'n roll and a hard place. She can't wait to get out of her tiny hometown of Steadfast, Nebraska (population three hundred and forty-seven) to chase her dreams, but small-town troubles keep getting in the way. She can't abandon her grandmother with Alzheimer's, or her best friend Micah--who she may or may not be in love with.
But for one hour each Saturday, she escapes all of that. On air, she isn't timid, ugly-sweater-wearing Ingrid North. She's the funny and daring Niteowl. Every boy's manic pixie dream girl. Fearless. And there is one caller in particular-- Dark and Brooding--whose raspy laugh and snarky humor is just sexy enough to take her mind off Micah. Not that she's in love with Micah or anything. Cause she's not.
As her grandmother slips further away and Micah begins dating a Mean-Girls-worthy nightmare, Ingrid runs to the mysterious Dark and Brooding as a disembodied voice to lean on, only to fall down a rabbit hole of punk rockstars, tabloid headlines, and kisses that taste like bubble tea. But the man behind the voice could be surprising in all the right, and wrong, ways.
And she just might find that her real life begins when Niteowl goes off the air.
Befriend: LD

Go out on a date & kiss:

Billie

Take to a desert island and leave behind:

Micah

Change into a vampire so we can be young together & forever

: Billie
4 "Golden Boy" STARS
Thank you, Bloomsbury Spark
So this was a pleasant surprise.
I have to confess that "We Own the Night" was one of those books I requested because of its beautiful cover. The blurb was pretty cool, too, but I hadn't heard anything about the story or the author prior to seeing it on NetGalley. This time, the cover didn't steer me wrong.
The book promised a fun and cute read and it delivered just that. Not to say that it didn't have some serious and heartbreaking moments, because the MC's relationship with her grandmother provided many of those.
Ingrid is a small town girl with a secret – she runs her own radio show every Saturday at midnight. I can't say I'm a radio type of person – can't even remember the last time I listened to it – but I remember being younger and tuning in like the rest of my friends, so this resonated with (too-many-years-ago) teenage me. Maybe that was why I felt like – although it was pretty clear from the cultural references, like Leo winning an Oscar that this was set in 2016 -- the story had this 1990's vibe.
The chapters that featured her radio show were among my favorites. The cultural references were pretty cool and the whole vibe with the deejay talking with the callers brought a constant smile to my face.
As Niteowl

, the deejay, Ingrid is confident and fun. She has fans who call to ask her advice, who listen to her and think she's awesome. As herself, she's the target of bullying from her high school peers, an underpaid employee at a candy store, a girl who has to watch the guy she loves date her archenemy, and the person responsible for her only living relative, her sick grandmother.
No wonder why she feels like she needs to live this double life.
In my opinion, "We Own the Night" is a typical and great "coming of age" story. Ingrid's character development was really good. She went from the girl who thought people only liked Niteowl because they didn't know who she truly was to the person who understood she could keep Niteowl's confidence and still be herself. Some people would still dislike her, but others loved her just the way she was – and those people were enough to make her happy.
Another positive was Ingrid's relationship with her grandmother. I loved how she thought of her grandmother as her entire world, and wasn't afraid to show that. It was heartbreaking to see how she feared losing her grandmother to Alzheimer's, something inevitable, and how she had to make decisions that no one should have to. Honestly, when it came to what Ingrid was handling, there was no right or wrong answers. One could only hope to do what's best for the people involved, even when best doesn't feel right, or means heartbreaking. All I can say is everything about those two showed me how much they cared for each other, which made me care for Ingrid a lot more.
Ingrid's relationship with her friends was also an interesting aspect of the story. I think it could've benefited from showing us more of Micah and Ingrid's supposedly epic friendship before we jumped right into Ingrid's love for him and her pain as Micah fell for the town's prettiest and meanest girl. This mean girl was also someone I wished I'd gotten to know better, because it seemed like she could've been a much deeper character than she had the chance to be.
On the other hand, I have no complaints about her relationship with LD and Billie.
Ingrid and LD's friendship was my favorite by far. The girls were awesome together and LD was an easy character to like. She was well developed and had a story of her own. I hope we get to see more of her in the future.
Billie… oh Billie. I really liked him. The whole mystery involving him was too easy to figure out to even be considered a mystery – but I won't get into that because some people might feel differently about it. All I can say is that while the romance subplot isn't the biggest part of the story, it's big enough to keep you engaged. And it's super adorable.
I was team Billie from the start – and if that hadn't been the case, I'm pretty sure I would've fallen for him along way. I only wish we'd gotten to see more of him. There were way too many chapters where he was absent, and I needed more Billie.
Something I also needed was a clearer vision of what would happen with Billie and Ingrid after the story ended. I'm not a big fan of uncertain endings, those open for interpretation. I wanted to know how they'd make it work. I even wanted to see what would happen if and when Ingrid called her idol back about that internship -- that plot felt a little unbelievable, I have to add. I mean, I could get behind everything that happened with the radio show and the interview, but Ingrid not answering the producer's call? Or even the fact that he called her repeatedly? Not sure that would ever happen in the real world.
"We Own the Night" is the second book in the Radio Hearts series, and while it reads as a stand-alone, there were parts that could've been explained better. If you didn't read the first book, like me, you might find yourself confused about all the references to Roman Holiday and Jason Dallas (characters from the first book, "The Sound of Us").
Nothing that ruined the magic, though.
If you like character-focused stories with a main character who is relatable and has a great arc, then I truly believe you'll enjoy this book. Highly recommended.
*If you liked this review (or not), if you read the book (or not), come say hello and leave your comments bellow.