Zoey Handler is ready to put an end to her decade-long rivalry with Gordon Meyers. They've traded top spot between valedictorian and salutatorian for years, but all that's over now. Right? But after a crazy graduation speech prank gets out of hand, suddenly their rivalry turns into all-out war. Time to make peace with a little friendly payback.
Step one? Make him believe they're now friends.
Step two? Show him the time of his life at an epic graduation party.
Step three? Don't fall for his tricks.
Step four? Absolutely, positively, do not kiss him again.
So what if he's cute? (Okay, hot.) So what if he's charming? (Heaven help her, tempting.) So what if he apologizes? (That has to be fake.) She knows the real Gordon. And no matter how much her heart begs her to stop, there's no turning back.
Disclaimer: This Entangled Teen Crush book contains one epic party, complete with every high-schoolers-gone-bad shenanigan, and two rivals who discover maybe they could be something much more…if only they'd stop fighting long enough to notice it.
"Help me out here," Gordon whispered, his cheek brushing against mine as he spoke in my ear. "I'm blanking."
The breath stalled in my lungs with how close he was, and how his soft words sent warm chills across my skin. The notion that he thought I was someone he could ask advice from both thrilled me and made my nerves twist. Or that could be because I could smell him again, which seemed to have a direct line to my crazy-button. Because only an insane girl would be wishing her enemy would keep whispering in her ear like that—he could recite the alphabet for all I cared, as long as he kept talking.
"Um," I said, stumbling over my own words. New experience. Not exactly fun. My eyes darted over the faces in the room—completely oblivious to the battle raging inside me, the one that screamed to give in to what I was feeling for Gordon, and the other side reminding me how he'd slayed me this morning. I finally spotted the quarter on the table and remembered how to use my brain. "Any time someone says quarter, they have to drink."
Gordon smiled and I felt it in my bones. "Thanks," he said. "What she said." He spoke a little louder as he sat up straight again, and I instantly craved the warmth of his nearness.
I focused solely on the game and on the plan, but my body…my heart…wanted what I couldn't have.
3 "Team Gordon FTW" Stars
Thank you, Entangled Teen!
After reading and loving the first book in this series, I was anxious to get my hands on this!
With one of my favorite romantic tropes, Love Between Enemies shares a parallel timeline with Love in the Friend Zone. Like the first book, the story of Gordon and Zoey start at graduation day and stretches into the grad party, where we get most of the interactions between the two main characters.
I know not everyone is a fan of this format, but I think it works well for this series because these characters have all known each other for a really long time. They've seen each other almost every day for years, so I can't really classify their feelings as "insta"-anything, even when it only takes one night for them to realize those feelings exist. You know what I'm saying?
Here, Zoey and Gordon have been each other's closest competitors. This competitive dynamic makes them work harder every time to try to win/be the best student/get the prize or whatever is at stake. So though they aren't exactly enemies, it's clear they're nemesis. Until Gordon loses a much-needed prize to Zoey and decides to act stupid because of it.
Of course Zoey can't let it slide, so she comes up with a revenge plan of her own. But her revenge involves distracting Gordon, a.k.a. spending too much time with him, and that's when things start to turn from hate to something else entirely.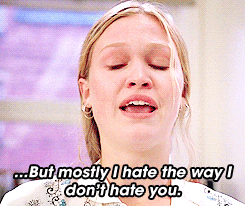 Here's the thing, though…. Gordon's little revenge started the whole thing, but I still rooted for him the entire time, mostly because I could understand why he did what he did, but I couldn't connect with Zoey's reason…or how far she took her revenge plan.
The author did an amazing job establishing Gordon's motivations and building a heartwarming relationship between Gordon and his dad. I was drawn to him instantly, and a few chapters in I was already tearing up reading scenes between those two. The love and respect in that relationship was beautiful and real and warmed my heart.
I also loved how hard Gordon worked to get the things he had and how serious he was about school and the family's business. They weren't exactly poor, but they were hard-working people, and that always gets to me.
Zoey, on the other hand, came from a place of privilege. Her family was wealthy and, despite my admiration for how hard she worked to prove herself, she had her future set for her. I'm not saying she should've have been upset at how people thought she had everything handed to her and judged her for it. Or that she shouldn't be proud of herself for working just as hard as Gordon for her academic success. But she still needed to acknowledge her place of privilege. I understood her intentions and motivation, but I was annoyed that she didn't see there were people who needed that prize a lot more than she did.
And here's the thing, Gordon was wrong to do what he did, but his actions didn't have half the consequence as her revenge plan did. She was plotting to ruin a person's academic future and that was seriously messed up. Her revenge plan could also lead to much bigger problems for Gordon and his father—legal problems. There was simply no way I could get behind her and what she was doing.
I also expected Zoey to come into her own and do something about that terrible revenge plan much earlier, but things didn't go exactly that way. For me, Zoey went too far into the bad side and took too long to come out of it. And even when she did, she didn't exactly acknowledge her place of privilege. In the end, she did the right thing, but even that left a bad taste in my mouth, because it ended up making Gordon look like he only got the things he did because she interfered.
So while Zoey didn't do it for me, Gordon was the real star of this story. I loved everything about him, especially the way he owned up to his mistake and immediately sought a way to apologize for what he did. And even if he didn't get his happy ending the way I wanted him to, I was still thrilled for him.
Molly E. Lee is an author best known for her debut novel EDGE OF CHAOS, and as a mentor at Pitch Wars - a program which connects promising writers to established authors in the community. Molly writes New Adult and Young Adult contemporary featuring strong female heroines who are unafraid to challenge their male counterparts, yet still vulnerable enough to have love sneak up on them. In addition to being a military spouse and mother of two + one stubborn English Bulldog, Molly loves watching storms from her back porch at her Midwest home, and digging for treasures in antique stores.
a Rafflecopter giveaway