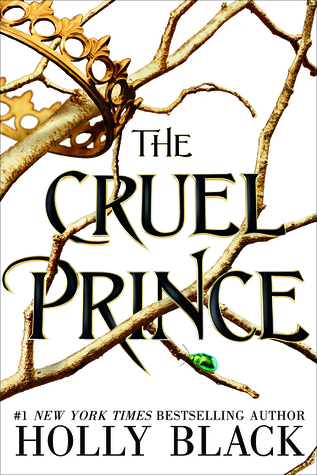 Image and blurb from Goodreads
Title
: The Cruel Prince
(The Folk of the Air #1)
Author
: Holly Black
Category/Genre
: Young Adult Fantasy
Publication Date
: January 2th, 2018
Publisher: Little, Brown Books for Young Adults
Of course I want to be like them. They're beautiful as blades forged in some divine fire. They will live forever.

And Cardan is even more beautiful than the rest. I hate him more than all the others. I hate him so much that sometimes when I look at him, I can hardly breathe.
Jude was seven years old when her parents were murdered and she and her two sisters were stolen away to live in the treacherous High Court of Faerie. Ten years later, Jude wants nothing more than to belong there, despite her mortality. But many of the fey despise humans. Especially Prince Cardan, the youngest and wickedest son of the High King.
To win a place at the Court, she must defy him–and face the consequences.
In doing so, she becomes embroiled in palace intrigues and deceptions, discovering her own capacity for bloodshed. But as civil war threatens to drown the Courts of Faerie in violence, Jude will need to risk her life in a dangerous alliance to save her sisters, and Faerie itself.
Buy Link: Amazon
4 "Teen Scandal in Fae World" Stars
The Cruel Prince
didn't turn out to be the five-star read I was expecting. But it was close.
A mix of ACOTAR, Game of Thrones and Scandal, it was one of my most anticipated reads of 2018. Still, it was still a lot different from what I expected. Maybe it was how light on romance and high on scheming and betrayals it was. Maybe it was my lack of experience with anything Holly Black. Whatever it was, it was different--but still pretty amazing.
Cleverly plotted, The Cruel Prince stood out in a crowded YA Fantasy market because of the main character's arc and also because it was smart and focused on more than world building (thought that was beautifully detailed). It was a story about finding/making your place amongst those who don't respect you, about making tough choices, about fearing and overcoming fear, about loyalty and family.
Despite the fact that I guessed early on the turns the story took, I still thought it was a smart book. It made the main character, Jude, seem smart. Sure it reminded me a lot of Shonda Rhyme's Scandal, but in a good way. And though the TV series hasn't been as stellar as it once was, I guess I can't fault the writers' intelligence and creativity when it comes to plotting intrigues and betrayals. The same can be said about Holly Black regarding The Cruel Prince.
Jude is my kind of heroine. Lost at first, but desperate to find purpose. Badass with and without a sword. Clever and cunning. She's a no-white-hat (fans of the show will get the reference) and yet likable Olivia Pope. Jude is the Olivia Pope Shonda Rhymes wished she had written these past couple of seasons, because Jude managed to become the big player, the powerful one without turning into the person everyone hates. I can't go into details about how she gets there because of spoilers, but she is the one to fear now and I wholeheartedly approve!
Now, I didn't care much for Jude's relationship with her twin sister, despite the interesting drama in the end. Nor did I care for the lackluster romance with Locke. But I loved the borderline absurd and extremely complex relationship between Jude and her "father"--the man who killed her real parents and kidnapped her into the fae world. Side note: despite my comparison to ACOTAR by Sarah J. Maas, The Cruel Prince presents a fae world much more complex and detailed, and also much darker. Anyway…Jude loved her "father", just as much as she feared and hated him for who he was and what he'd done, and in the end, she almost became him. Once again, I have to compare that relationship with the one between Papa Pope and Olivia. The man is a monster who loves his daughter but will still does monstrous things to her. And the daughter fears and admires him while she travels down a path that will lead her to become him. It's as dark and emotional as it sounds, and it's what made this story so interesting to me.
That, and Cardan, the Cruel Prince himself. Fear and hate mixed with something else were also themes for Jude's relationship with Cardan. And I loved it and him. Sure Caran was a huge jerk during the first part of the book, but it was clear that there was more behind that facade. I got major Rhys from ACOTAR vibes from him. *swoon*
Since Jude was convinced Cardan hated her and was intent on destroying her, she ignored the signs that he wasn't as he seemed, but those signs were still there and they were many. I also adored how Jules acted/reacted when it came to him. For those worried that she'll turn into a love sick puppy because "Oh, Cardan is a prince and he's oh so pretty despite being so cruel", you have nothing to worry about. Jules is too smart for that. She knows better and she'll make Cardan work to get her forgivness.
I'm already obviously Team Cruel Prince all the way, because what were the chances I'd resist a smirking, antihero hottie?
The romance fan in me wished we'd seen more of Cardan and Jules' awesome dynamic in this book, but I'm betting we'll get plenty of that in the sequel. With everything that was going on in Jule's life, the hints of romance were left for the later chapters, and I was beyond ready for it. Again, spoilers will prevent me from saying much, but I can't complain that things are still unfinished and even more complex now, because that makes me desperate for book 2.
Overall, The Cruel Prince was a stunning start to what I can see will become a favorite series, introducing a smart, complex and likable main character, a strong world, tons of intrigue and the hints of what will be a enemies-to-lovers, slow burn romance that will make my heart beat fast. Basically, it's a lot of what I wished I had seen in the past few seasons of Scandal, one of my favorite shows.
*If you liked this review (or not), if you read the book (or not), come say hello and leave your comments bellow.