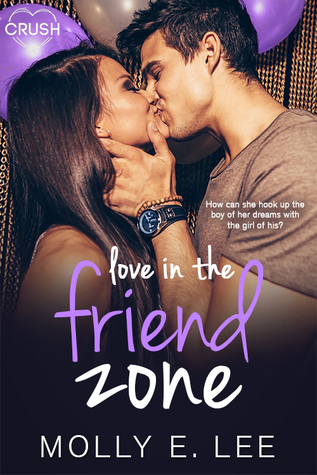 Image and blurb from Goodreads
Title
: Love in the Friend Zone
Author
: Molly E. Lee
Category/Genre
: Young Adult Contemporary Romance
Publication Date
: August 14th, 2017
Publisher: Entangled Teen (Crush)
The only thing worse than not being able to tell your best friend you're head over heels in love with him? Having to smile and nod when he enlists your help to ensnare the girl of his dreams.
Braylen didn't even want to go to Lennon Pryor's epic graduation-night party, but when Fynn begs her to be his "wingwoman," she can't deny him. Talking up her BFF—how he's magic behind a camera, with a killer sense of humor and eyelashes that frame the most gorgeous blue eyes in the history of forever—is easy. Supporting his efforts to woo someone so completely wrong for him? Not so much.
Fynn knows that grad night is his last shot before leaving for college to find true love. And thanks to Bray, he gets his chance with the beautiful Katy Evans. But over the course of the coolest party of their high school careers, he starts to see that perhaps what he really wants has been in front of him all along. Bray's been his best friend since kindergarten, though, and he'd rather have her in his life as a friend than not at all.
Disclaimer: This Entangled Teen Crush book contains one epic party, complete with every high-schoolers-gone-bad shenanigan, and two best friends whose sexual chemistry is off the charts…if only they'd succumb to it.
4 "BFFs & Graduation Party" Stars
ARC via NetGalley
Thank you, Entangled Teen!!!
I started this book one day after I was done reading Just Friends by Tiffany Pitcock, and the fact that I adored Love in the Friend Zone says a lot about how amazing this book is. Why? Because Just Friends and Love in the Friend Zone have the same vibe (sweet and romantic) and premise (best friends falling in love), but they
still felt different enough to stand on their own.
In Love in the Friend Zone we have best friends since they were kids,
Bray and Fynn. Bray is in love with Fynn. Fynn has no clue because he's a guy, and you know how guys can be clueless sometimes. #sorrynotsorry
It's graduation day and while all Bray wants is for her BFF to finally realize she's the girl of his dreams, so they can go off to college together as more than just friends, Fynn is stuck on the idea of someone else entirely. He wants popular girl, Katy. But don't judge Fynn just yet. The boy isn't interested in Katy because she's popular and pretty. No, he thinks she's more than just that, and he was charming enough to wait a few months since her break up to actually make a move. Very prince-ly of him. He's also interested in Katy because falling for her might be the safest route. See, Katy is going to college much closer to home, than, let's say, his best friend Bray, who's moving across the country. And if there's something Frynn wants is to stay close to his parents because they're close and happy. You see my problem here? Fynn makes it very hard to stay mad at him for the bad choices he's making. LOL
And being mad at Fynn should be easy, because he has the coolest girl right there and he doesn't even see it. Like Fynn, Bray is so likable I couldn't help but feel for her. Girlfriend broke my heart more than once with the whole "I love my best friend" drama. Every time she saw Fynn and Katy together, every time she put her own feelings aside to make sure Fynn got his happiness, every time she thought Fynn was rejecting her, hurt me as if I were her. I both loved and hated how Bray's drama made me feel. Kudos to Molly E. Lee (a new author for me) for putting me right there with Bray every step of the way.
Like most BFF to lover stories, fear and miscommunication ruled the story here, but not in a bad way. This reminded me of another favorite YA Contemporary about BFF falling in love, Adorkable by Cookie O'Gorman. These two authors shared the ability to make the story interesting using miscommunication as a plot device in a way that didn't seem cheesy or annoying. There was reason and logic behind Bray's decision to keep quiet about her feelings for her best friends, and Fynn's denial was also understandable. He had weaker motives than Bray, but he wasn't the only one who had always known he was in love with his BFF, so I could buy that.
Something I also adored was how this story was pratically told in a span of a day, or better yet, a night. Most of the story was set in a graduation party, and dude, I so wanted to be at that party because there was so much going on. The fact that Fynn and Bray were BFF allowed for that to happen without it feeling like insta-love.
Speaking of that party, I was super super excited about all the people we met there. There were all these side romance stories going on between Bray and Fynn's friends, and I need to read about them. I need.
I seriously need Molly E. Lee and Entangled Teen to tell me there will be more books in this series. And I need them to be out soon. Like, yesterday.
So, I guess what I'm saying is this book was freaking adorable and great and super my thing, and I simply cannot wait to read what this author writes next. Give. It. To. Me.