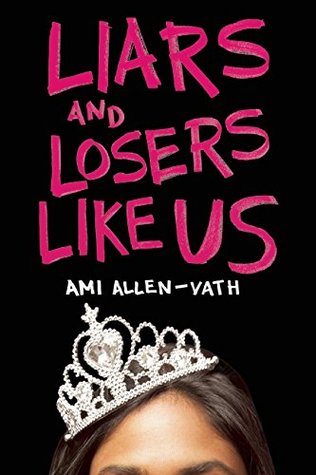 Image and blurb from Goodreads
Title: Liars and Losers Like Us
Release date: March 15th, 2016
Author: Ami Allen-Vath
Sky Pony Press
About the book:
Keep calm and make it to prom night—without a legit panic attack.
For seventeen-year-old Bree Hughes, it's easier said than done when gossip, grief, and the opportunity to fail at love are practically high-fiving her in the hallways of Belmont High.
When Bree's crush, Sean Mills, gives her his phone number, she can't even leave a voicemail without sounding like a freak. Then she's asked to be on Prom Court because Maisey Morgan, the school outcast nominated as a joke, declined. She apologizes to Maisey, but it's too late. After years of torment and an ugly secret shared with their class's cruel Pageant Queen, Maisey commits suicide. Bree is left with a lot of regret…and a revealing letter with a final request.
With Sean by her side, Bree navigates through her guilt, her parents' divorce, and all the Prom Court drama. But when a cheating-love-triangle secret hits the fan after a night of sex, drinks, and video games, she's left with new information about Sean and the class Pageant Queen. Bree must now speak up or stay silent. If she lets fear be her guide, she'll lose her first love, and head to prom to avenge the death of the school outcast—as a party of one.
My thoughts:
3.5 "Prom can be a real nightmare" STARS
ARC via Edelweiss -
Thank you, Sky Pony Press!!
* Trigger warning: this book talks about suicide and bullying. *
Bree Hughes is the first main character to make my 2016 "unlikable

character" list. Oh, well, Bree, this is another title to add to your list. ;-)
Jokes aside, this book touched a lot of sensitive topics, such as

bullying, sexual abuse and suicide, all while following the MC's quest to becoming the next Prom Queen - sort of -- and a better person.
And while I can't say I fell in love with her throughout her journey,

I can't also deny she did come to be a better version of herself by the end. Bree grew as a person, and character development is something I'm always glad to see.
To be honest, I find it hard to summarize the plot because I thought

there wasn't much of it. This is definitely not a plot-driven novel. But here's what I'm taking from this story:
Bree is a seventeen-year-old whose parents have recently gotten a

divorce and who has a huge crush on Sean, a cute quarterback, which explains why she spends most of her time thinking and daydreaming about him. Other than those two things, Bree is also defined by her friendship with Kallie and their nomination to be part of the Prom Court. Well, you see, there's nothing distinctive about Bree. If you take out the names and replace them by others, Bree could be anyone: divorced parents, crush on cute boy, a best friend and prom queen aspirations -- it describes so many girls, but no one specific, if that makes sense. Truth is, I missed knowing something about her that made Bree her own persona. Maybe a hobby would've sufficed. Anything to make her stand out. Anything "nice" that would make me ignore how bitchy she sounded at times.



One thing I can say: Bree wasn't someone I'd want to be friends with. First, she could be really whiny. Second, she wasn't the best of

friends to her best friend. Third, she sucked at communicating and prolonged confrontation for longer than necessary, because she


never wanted to be the one to first admit she was wrong. And while all of that makes her just another teenager (come on, you were probably

like that, too), it doesn't make for a likable MC.
For those reasons, I thought the side characters made much better MCs

than Bree. While Kallie wasn't anything special either (her attitude toward her BFF and her BF made me roll my ways countless times), Jane and Maisey were distinctive enough to steal the scene. They were both complex and messed up people, which made them "richer" characters. Their life stories were intriguing enough that they practically kept the book interesting and the characters moving, even though this was supposed to be all about Bree's life and choices. Even Bree's biggest arc was related to Maisey and Jane's decisions.



The romance was pretty cute. For some reason I kept expecting Sean to turn into this asshole that would do something terrible to hurt Bree,

but although there was an incident, I can't really say it was entirely his fault. The relationship between Bree and Sean was more of a quiet, but still cute one. I personally didn't feel that fire or passion that takes over every sense, but that's okay. It doesn't always have to be like that. It can be quiet AND beautiful.


Hmmm, quiet is a good word to describe this novel. Like I said, there
wasn't a crazy plot, the pacing didn't make me turn page after page
desperately
or anything like that, but the characters (especially Jane and Maisey) kept the story going and I was glad I got to read this.