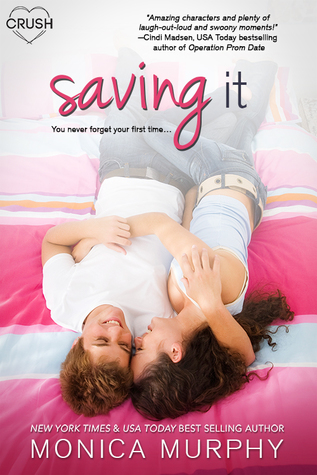 Image and blurb from Goodreads
Release Date

: November 6

th,
2017
Age Category/ Genre:
Young Adult Contemporary Romance
Publisher
: Entangled Teen (Crush)
Eden: Josh Evans and I have been best friends forever. He knows all my secrets, and I know all of his. So when he randomly asks me to help him lose his virginity, I sort of flip out. That's a question that sends your mind to places you've seriously never considered before. Like, you know. Having sex. With your best friend. Except Josh doesn't want to have sex with me—he wants me to help him find a girl. A nice girl who's funny and smart and cute. Except he already knows a girl just like that…
Josh: Eden Sumner is my best friend. So of course she'd be the person to help me find my perfect match, so I can drop my V card before I head off to college. Except the more we search, the more I realize that maybe the right girl has been by my side all along. I don't need Eden's help in finding me a girl to love. I'm pretty sure I'm already in love with Eden. But now she thinks I'm only after one thing…with anyone but her.
Disclaimer: This Entangled Teen Crush book is what happens when American Pie meets Friends with Benefits. It contains two best friends, plenty of angst, and lots and lots of sex talk. Reading this might have you looking at your best friend in a different light!
Thank you, Entangled Teen (Crush)!
As a huge fan of the BFFs falling in love trope, I was eager to read this book from the moment I saw the ARC. It didn't wow me as much as I'd hoped, and I ended up having similar problems with the story as I did with Monica Murphy's other book, but it was an enjoyable read.
One of the things I liked most about Saving It was how real Eden and Josh's friendship was. I truly felt like they knew each other and had been close friends for a long time, which made the scenes between them much more enjoyable.
As it happened with Daring the Bad Boy (another book by this author I read recently), the male POV worked better than the female for me, but I still liked Eden enough. She was fun and I enjoyed how worried she was about not coming out as a pimp while she helped Josh find the perfect candidate to lose his virginity with.
Eden and Josh took their time figuring out their feelings for each other, and most of their scenes were super cute. I also liked how realistic the portrayal of first time was here.
My biggest complain is probably the repetition. Eden and Josh's chapters could get really repetitive, which took me out of the story from time to time. And even though the romance was cute, I still wanted to see more chemistry between the two of them.
Overall, Saving It is a nice read for fans of the BFFs falling in love trope.
*If you liked this review (or not), if you read the book (or not), come say hello and leave your comments bellow.