Image and blurb from Goodreads
Category/Genre
: Adult Contemporary Romance
Publication Date
: September 18th, 2017
Publisher: Entangled (Embrace)
Alexandra Ryans's life has been anything but normal. Some might even call it a fairy tale. As the daughter of the former U.S. ambassador to England, she grew up within the palace walls, best friends with the three young princes. Adored by the press and the British people. What more could a girl want?

If only the press knew the real story behind her relationships with the Dudley boys. Then, they'd really sell some papers.

Oliver Dudley, youngest son and third in line for the throne, loves everything about his life. The fame. The parties. The women. The utter lack of expectations and responsibilities that come with being last in the line of succession. But while the world thinks he has everything he wants, there's one thing he was never able to call his own—the beautiful and spunky American Aly Ryans. But how can he convince her when she hates everything about his life? And what is he willing to give up to get her?
3.5 "Rebel Royal" Stars
ARC via NetGalley.
Thank you, Entangled (Embrace)!
This was a fun read, and a lot less "triangly" (I know that's not a word) than I thought.
I went into this book thinking I'd get a royal love triangle, and while there were some flashback scenes that showed a little of that, the scenes set in the present made it clear that the focus of the romance were Alexandra and Oliver.
The story starts with Alexandra, an American girl raised with the British royal family due to her father's friendship with the King, returning to England for a royal wedding. It's clear early on that she had feelings for two of the King's sons and that caused enough trouble between the brothers that she "ran away" to America.
For me, Alexandra was likable and relatable, despite being super rich and having been raised among royals. I liked that she was into sports (soccer fan here!) and wasn't interested in exposing her life to the media. Her voice was fun and young, and her reasons for staying away from the people she loved seemed valid enough.
Like I said, there are a lot of flashback scenes that showed Alexandra's friendship with the boys and how she began to develop feelings for them. I'm usually not a fan of this going back and forth thing, but it didn't bother me here. I actually liked seeing more of how Alexandra went from dreaming about the older brother (the one who would one day become King) to falling for Oliver,
the youngest prince, who also happened to be the one mostly liked to embarass the British crown.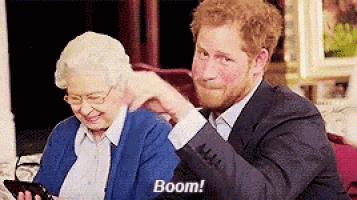 While Alexandra was a little more Pippa Middleton than Kate, Oliver was a lot like Prince Harry in his more troublesome years. The third in the line for the throne, Oliver didn't care too much about ruling, so he focused his energy on being the one the media wrote and talked about (we later learn he has good reasons for acting that way). For me, that made him more interesting, because he knew how to shake things up and make them more fun.
In fact, one of the things I enjoyed most about this story was how it made the "less princely" guy the love interest. He wasn't as well-behaved or serious as his older brother, or as smart as the one getting married, but Oliver had a lot going for him and it was obvious he was the right guy for Alexandra.
I also liked seeing a little bit of the friends to lovers trope I love so much, especially in the flashbacks. I was rooting for Oliver and Alexandra to end up together from the very start and I was happy to get that happy ending.
*If you liked this review (or not), if you read the book (or not), come say hello and leave your comments bellow.