Title: Sledgehammer
Publication date: September 11th, 2017
Category/Genre: Adult Contemporary Romance
Amber Jones is in a pickle. And when I say pickle, I mean deep do-do. She knew she shouldn't have gone to her ex's New Year's Eve party. And she reeeaally didn't mean to almost burn down his house. It was the chafing dish's fault, dang it! Now she needs a good lawyer, stat. But where to find one?
All work and no play make Ethan Vaughn a very sad and lonely lawyer. Not to mention horny. He really shouldn't have agreed to help his best friend's wife's bestie with her imbroglio. Now she's remanded on bail––and living in his house. The woman is a walking, talking category five hurricane. And considering his track record with women, he needs to stay as far away from this one as possible. Problem is, he just can't seem to make himself.
Cam DeSantis' life is a hot, steaming pile. How else would you describe losing your husband, your job, and your money all at once? Desperate times call for desperate measures, so when salvation comes in the form of one intolerable a-hole, who just happens to be the starting quarterback for the vaunted NY Titans, she has no choice but to accept his offer as a live-in nanny slash teacher for his eight year old nephew. Now all she has to do is find a safe place in her mind to hide whenever she feels the need to throat punch him into tomorrow…which is often.
Calvin Shaw has zero interest in women. Wait, wait––let me rephrase that. He loves women, he just doesn't want anything to do with 'um. Not since his wife, presently ex-wife, got knocked up by the guy she was cheating on him with. Problem is––there's one living in his house. And he doesn't know what's worse, that he promised to be civil, or that he's attracted to her.
P. Dangelico loves romance in all forms, shapes, and sizes, cuddly creatures (four legged and two), really bloody sexy pulp, the NY Jets (although she's reconsidering after this season), and to while away the day at the barn (apparently she does her best thinking shoveling horse crap). What she's not enamored with is referring to herself in the third person and social media so don't expect her to get on Twitter anytime soon. Oh, and although she was born in Italy, she's been Jersey Strong since she turned six.
4.5 "Slow burning me" Stars
Last year, I was going through a reading slump when I started Wrecking Ball, the first book in the Hard to Love series (P.S.: the series title is wrong, because these books are nothing if easy to love). The same thing was happening when I decided to start Sledgehammer. The result was the same: I'm now cured.
I was going to wait to start this book until next week because I have other ARCs that needed my immediate attention due to their release dates, but all the books I've read for the past few days have failed to WOW me. Some I liked more, others less, but nothing stuck with me, even though other people have loved them.
That's the thing about this reading business: subjectivity rules. Sometimes I have a hard time explaining why a story didn't work for me. All the elements were there, but nothing did it for me. Other times, a simply story has this extra sparkle and I'm done for. Sledgehammer fits in this last category.
If you haven't figured it out by now I am absolutely, irrevocably in love with this book.
To be completely honest, I went into this knowing I'd probably enjoy the heck out of it. The blurb is great. The first book was amazing. P. Dangelico has a whole Mariana Zapata vibe with her slow burn romances. So, yeah, it was a recipe for success. But the thing is, I didn't just like it. I inhaled, breathed, lived and died with it. It gave me all the FEELS, to the point I had to take a break because I was hyperventilating. And I'll tell you this. Although I loved, loved, looovveeedddd Amber, the guilty party here is Ethan Vaughn.
Book boyfriend Ethan Vaughn was amazing. A-mazing. Everything I needed and a little more. The angst was alive and real and making my chest burn because this dude, the things this dude did, the way he spoke, the dirty talk, the proclamation of love…. Every-freaking-thing was perfection. I don't care if you disagree. I don't. He was it for me.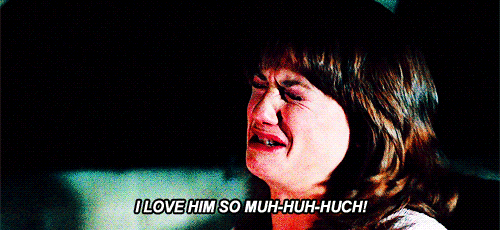 When he went all
"I'm going to make it impossible for you to leave me"
(in a not creepy way, I have to add, because out of context this might sound creepy), I swear my heart did a funny thing. I'm not joking. It just got to me in a way that it's hard to explain.
Then, he went all "I wanted a little more time with you" because he needed "To show you how much I love you", I nearly had a heart attack because nothing gets to me more than a man so desperately in love, and Ethan was desperately in love. It even made him stupid—because what he did was stupid. A little romantic, too. Stupidly romantic. Amber was totally right to be pissed, even though it broke my heart to see how devastated he was.
Finally, Ethan killed me and buried me with his love speech:
"I love you," he says, his voice calm and steady while his eyes burn brightly with longing, my face still in his reverent hold. "And…" He exhale harshly. "And not the flowers and dinner on Valentine's kind of love. It's not soft or sweet. The way I love you is… is—" His face twists in frustration. "It's fucking painful. When you're not near me I feel like Popovitch is sitting on my chest and I can't breathe."
So, yeah. I'm dead. This guy killed me.
I don't even care that the whole "I'll post her bail and let her live with me" thing sounded a little weird. Does that even happen in real life? I'm not sure, but who cares? Because that landed them exactly where I needed them to be. Together. Living under the same roof. Getting to know each other, and OMG the slow burn. The "we don't like each other" to the "we're friends" to the "we can't get enough of each other" gave me life. Slow burn is my thing. The more I read authors like P. Dangelico and Mariana Zapata, the more I'm convinced I want, need and will give all my money for hot, real and well-done slow burn.
Now, Amber… This chick was awesome. I knew I'd love her when I highlighted the first paragraph and wrote: "YES!!! VOIIIICEEE!" I know the concept of voice is a little hard to grasp (at least I have a hard time explaining it), but when it's there, you just can't miss it. It sort of hits you in the face and gives you pause. It happened here. I read one paragraph and I knew I'd love Amber because her voice got me. She was funny AF, loyal and smart. She was also surprisingly down to Earth considering everything that she had gone through. I couldn't have asked for a better narrator for this story.
I don't even know what to say about the romance without getting a little spoiler-y. I'll just say that it developed exactly the way I'd hoped it would. There were tons of bantering, tons of heat, and it went through the three stages that will make a romance extra special for me: a little bit of animosity >> friendship >> love. And I also got a little The Hating Game by Sally Thorne vibe when it came to Ethan, so it was real perfection.
Aside from Ethan, Amber and their romance, I also loved the whole NFL vibe (I'm a fan) and all the side characters. I loved seeing Cam and Calvin living their happy ever after, getting a little bit more of Justin and meeting Amber's little sis. I even teared up with a minor side character: the driver Ethan hired who'd been out of work for two years. Dude, that got me right in the feels.
This entire book got me right in the feels. It was fabulous. It was everything I wanted, and more than I needed. It's the reason I'm going to be stalking this author until she releases her next book. P. Dangelico, get back to your computer and start writing your next story because I need it. Right now.