Age Category/Genre: (Upper) Young Adult Contemporary Romance
Publication Date: July 18th, 2017
Being young is all about the experiences: the first time you skip school, the first time you fall in love…the first time someone holds a gun to your head.
After being held hostage during a robbery at the local convenience store, seventeen-year-old Edie finds her attitude about life shattered. Unwilling to put up with the snobbery and bullying at her private school, she enrolls at the local public high school, crossing paths with John. The boy who risked his life to save hers.
While Edie's beginning to run wild, however, John's just starting to settle down. After years of partying and dealing drugs with his older brother, he's going straight—getting to class on time, and thinking about the future.
An unlikely bond grows between the two as John keeps Edie out of trouble and helps her broaden her horizons. But when he helps her out with another first—losing her virginity—their friendship gets complicated.
Meanwhile, Edie and John are pulled back into the dangerous world they narrowly escaped. They were lucky to survive the first time, but this time they have more to lose—each other.
4.5 "Troubled Hero, Good Representation and Hot Romance" Stars
ARC via NetGalley
Thank you!!!
Damn. This book was way better than I thought it'd be.
This is my first Kylie Scott book, but if this is how she writes her stories, then it won't be my last.
Trust had everything I love in a YA Contemporary Romance, and then a little more--by a little more I mean HEAT! So, although this was set in high school, part of my brain wants to call in New Adult, because things got a little too heated for YA. For me, Trust falls into the same category of Paper Princess by Erin Watt; it's supposed to be about teenagers, but things go that extra mile when it comes to sex, something you might not be comfortable with when it comes to YA. So consider yourself warned.
Now, as to the story and the characters, I only have the best things to say.
The book started out with a bang (almost literally), and I simply couldn't stop reading. Told from the POV of Edie, a seventeen-year-old girl who goes into a store in her pajamas to get goodies for her movie-night with her BFF and finds herself hostage of a robbery gone wrong, Trust mixes suspense with friendship, love and growth in a way that simply grabs the reader from page one.
My heart was pounding the entire time Edie was being held at gunpoint. Even though I had just met her, I felt for her and I wanted her out of that horrible situation immediately. Being inside her head was just as messy and scary as it should've been to make that scene work. She was scared, and that terrified me. My feelings also mirrored hers when John came into scene, making me equaly suspiscious and mesmerized of the boy who pretended to connect with the junkie holding a gun in order to calm him down and get all of them out alive. I wanted to know more about him right from the beginning, and the more I learned, the more I liked John.
After John and Edie make it out of the store alive, Edie thinks she'll never see the boy who saved her life again, but after a turn of events, they end up going to the same school, and that's when things get even better.
First of all, I admired and applauded Edie's character development. I felt like every decision she made after the robbery turned into her a more mature young woman. She didn't try to hide from life, even though it would've been easy to do that after such a traumatic experience. Instead, she chose to look at life through a different filter: little things that would've mattered in the past, simply didn't seem that serious anymore. She became a stronger person. One who was capable of standing up to bullies and making important decision because she believe those were the best things for her life. She didn't make those decisions because of anyone else, she didn't do it to impress anyone, she did it for herself.
I couldn't have been more proud.
The second thing that impressed me was the fact that Edie didn't take shit from no one. She didn't take shit from her horrible, horrible ex-BFF, from the nasty high school girls bullying her, or even from John. She was fabulous. You know what else I loved? The fact that she was an overweight girl and that was it. There was no subplot where she desperately tried to lose weight to impress someone, or where she needed a romance or a guy to like her so she could like herself. There was no bullshit and I loved it.
Now, let's get into the romance. Or better yet, the friendship followed by the romance.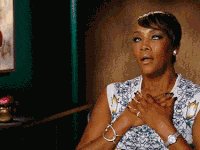 First, I was obsessed with how Edie kept calling John "the boy". I don't know why. I can't explain it. I simply loved it. It felt so genuine and so Edie, and so perfect. You know what else was perfect? The way those two characters fell in love.
John, with all his flaws (dude was a drug dealer, damn it!), was simply perfect for Edie. Perfect for who Edie was becoming. They needed each other, and they found in each other the kind of connection people search for their entire lives. Sure that connection started out as a product of the traumatizing situation they found themselves into, but it developed into something much more powerful and beautiful. I can't even put into words how amazing John and Edie's friendship was. And how perfect the romance that came after that was.
Everything between them progressed as it should. There was no rush. They took the steps they needed, and they learned how to get past the obstacles together. It was simply beautiful. And it was so much more than just chemistry, which they had plenty of, or sexy scenes, which were extremely sexy. Their relationship was built on something stronger, and the message the book ended up delivering was touching, raw and real.
I have no doubt Trust, its story and its characters will stay with me for a long time.
*If you liked this review (or not), if you read the book (or not), come say hello and leave your comments bellow.