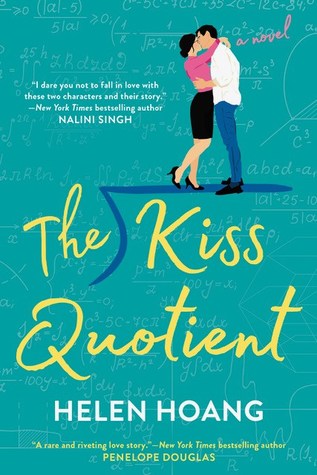 Image and blurb from Goodreads
Title
: The Kissing Quotient
Author
: Helen Hoang
Publication Date
: June 5th, 2018
Publisher: Berkley
Category/Genre: Adult Contemporary Romance
A heartwarming and refreshing debut novel that proves one thing: there's not enough data in the world to predict what will make your heart tick.
Stella Lane thinks math is the only thing that unites the universe. She comes up with algorithms to predict customer purchases--a job that has given her more money than she knows what to do with, and way less experience in the dating department than the average thirty-year-old.
It doesn't help that Stella has Asperger's and French kissing reminds her of a shark getting its teeth cleaned by pilot fish. Her conclusion: she needs lots of practice--with a professional. Which is why she hires escort Michael Phan. The Vietnamese and Swedish stunner can't afford to turn down Stella's offer, and agrees to help her check off all the boxes on her lesson plan--from foreplay to more-than-missionary position...
Before long, Stella not only learns to appreciate his kisses, but to crave all the other things he's making her feel. Soon, their no-nonsense partnership starts making a strange kind of sense. And the pattern that emerges will convince Stella that love is the best kind of logic...
4.5 "Worth the Wait" Stars
I've been waiting for this release for what feels like FOREVER, and I've been so obsessed with the idea of reading it that I told myself I wouldn't finish it in one day. I would prolong the experience because you only get to read a good book for the first time once. And because I'd been dying of jealousy of all the people who got to read this before release. I'll tell you, it was torture to watch my Goodread friends gush about this when it felt like June 5th would never get here.
Well, I could hardly believe when the day came. And I can hardly believe I was strong enough to stop reading that first night so I could save some chapters for the next day. But I did it! And t
o no one's surprise, I loved every second of it.
This book is amazing.
Again, this is another example of good representation kicking ass and taking no names. The voice was so authentic, you couldn't help but fall for Stella. She made me feel for her when she struggled and cheer with her when her journey came full circle. It was such an amazing and honest take on what life can be like for a woman on the autism spectrum, and that's because the author put some of her experience there, too. It was an emotional and satisfying read in every aspect.
Though Stella was the real star of the story, Michael didn't fall far behind. I'm always, always here for a good escort romance, and I'm happy to see this book join Mister Romance by Leisa Rayven on the list of must-read stories with this theme. And it's all thanks to Michael.
Michael, who's a hot half-Vietnamese, half-Swedish sweatheart who happens to be excellent at sex and caring and romantic and patient and all the good things that make perfect man perfect. Sure he had flaws and bagagge, but who cares when he's all of the things I just described? I can't blame Stella for falling so hard for the guy she was paying to teach her to be confident in bed. I would've fallen for him, too.
The romance is a little less slow burn than I normally like, but it was still filled with so many sweet and heartwarming moments that I couldn't complain. It was also hot AF. The sexy scenes?
There was drama, there was diversity, there were family members that stole my heart (in fact, both mothers made me smile and laugh and hold to hold them every time they appeared), and there was a lot of swooning involved in reading this story.
In the end, all I can is that this book was well worth the wait.