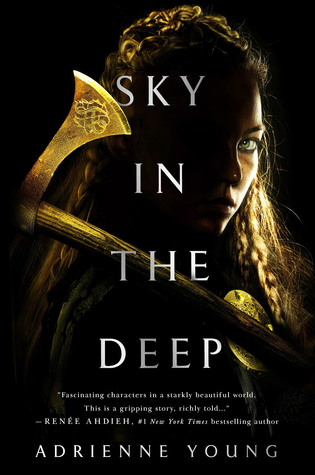 Image and blurb from Goodreads
Age Category/Genre: Young Adult Fantasy
Publication Date: April 24th, 2018
Publisher: Wednesday Books
Raised to be a warrior, seventeen-year-old Eelyn fights alongside her Aska clansmen in an ancient rivalry against the Riki clan. Her life is brutal but simple: fight and survive. Until the day she sees the impossible on the battlefield—her brother, fighting with the enemy—the brother she watched die five years ago.
Faced with her brother's betrayal, she must survive the winter in the mountains with the Riki, in a village where every neighbor is an enemy, every battle scar possibly one she delivered. But when the Riki village is raided by a ruthless clan thought to be a legend, Eelyn is even more desperate to get back to her beloved family.
She is given no choice but to trust Fiske, her brother's friend, who sees her as a threat. They must do the impossible: unite the clans to fight together, or risk being slaughtered one by one. Driven by a love for her clan and her growing love for Fiske, Eelyn must confront her own definition of loyalty and family while daring to put her faith in the people she's spent her life hating.
Buy Links: Amazon
After what felt like a lifetime of me staring at this stunning cover and waiting for this release, the day came and I got to read this baby. It was so worth the wait.
I've seen some people say this is just like every other YA Fantasy out there, but I can't agree. For me, Sky in the Deep was a breath of fresh air. Just like another favorite of mine this year, To Kill a Kingdom, this book brought something different to a flooded market by taking us back to Viking Age and focusing on characters, their inner journey and themes like family.
And, can we talk about Vikings and how freaking cool they are?
Sky in the Deep brings us two clans who are sworn enemies and fight each other every five years in the name of their gods: the Aska and the Rikki.
Our protagonist is a strong, badass, 'I'll go to battle even when my ribs are broken and I can barely hold my weapon' Aska warrior, Eelyn. I love Eelyn. I love her loyalty to her people, to her family, her love for her best friend and her "supposed to be dead brother". I love that she doesn't turn into a midless girl around a especially hot Viking guy (more on him later). I love that she slowly opens up to the world around her and, even unsure of what she's doing, helps people find a way out of the vicious circle they had gotten themselves into.
Eelyn is the true definition of badass Viking in my book.
You know what I also love? How these Vikings were not sexist. Girls were strong and as valuable warriors as guys, and I'm always here for more of that. From the very start, we had Eelyn and her best friend and fighting mate Myra at the front of the battle, because that's where powerful women belong. They kicked some serious butt, bled and kept on moving, and I was cheering.
Here's a Viking girl kicking some ass to make your day better:
In this battle, Eelyn meets Fiske, a Rikki warrior that almost kills her. What stops him is the reappereance of Eelyn's brother, who she thought had died years ago. Turns out he survived and joined the Rikki. Captured, Eelyn in forced to live among the enemy until she can find a way back home.
Now, we have to talk about Fiske, the hot Viking warrior.
Fiske for me brought me a bunch of incorrent YES, PLEASE, MORE from the moment he first showed up and it only got better after that. The "I'll kill you", "No, I'll kill you" dynamic between Fisk and Eelyn brought all the feels because I'm obsessed with a good enemy to lovers trope. These two quickly turned me into the captain of the JUST KISS ship.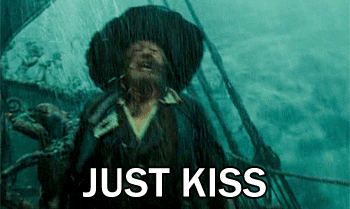 Of course I also love to be tortured, so I was more than happy to get my slow burn romance and wait forever for that kiss to come. *sighs* My life was complete.
Aside from the awesome romance, this book also gave me great family dynamics. We had Eelyn trying to understand Iri's choice while battling with her love for her brother and her loyalty to her family. Her amazing relationship with her father, who was supposed to have a cold heart, but was all warm and loving inside. Her dynamic with Fiske's little brother, who helped her understand and look differently at her so-called enemies. There was a lot to love in this story, and a huge part of that is the focus on the characters (especially Eelyn) and their journeys.
Don't get me wrong. Sky in the Deep has some amazing fighting scenes, but it's still a character-driven story at its heart. With that tone, a strong female lead, a forbidden, love to hate romance, a beautiful and complex enough world to elevate the story, this has easily been one of my favorite YA Fantasy reads of the year. Oh, and it's a standalone.